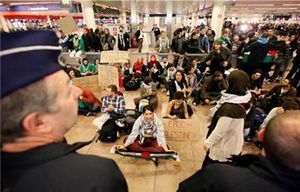 Stockholm's international airport has refused to allow Israeli security inspections to take place, forcing an Israeli airline to stop its service, daily Haaretz reported Thursday.
Israeli security procedures, which often involve ethnic and personal profiling, were prohibited from taking place at Denmark's Copenhagen airport last summer.
The measures, which are formulated by Shin Bet security services, are now also prohibited at Sweden's Malmo and Stockholm airports, Haaretz said.
Israeli airline Arkia has stopped flying to Stockholm's airport in light of the restrictions.
"We are talking with security authorities in Sweden and other countries where problems have surfaced, to understand the meaning of the new restrictions imposed on Israeli flights," Haaretz quoted Israel's Transport Ministry as saying.
A recent Welcome to Palestine campaign, which invited internationals to visit Palestine from April 15-21, saw hundreds of people barred from boarding flights to Tel Aviv.
Organizers said that over 60 percent of the expected 1,500 arrivals had flights canceled by airlines, after Israel circulated a blacklist of passengers and warned it would fine carriers.
Campaign leaders said Israel was subcontracting the occupation and asking others to do its dirty work, in reference to international airlines preventing participants from boarding their flights.