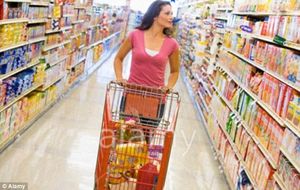 Two ice cream brands and detergent join the 'shopping list of shame'
Manufacturers say they're responding to rising commodity prices
Supermarket shoppers are increasingly getting less for their money as big brands continue to reduce the size of their products, a consumer watchdog has revealed.
The smaller groceries still cost the same at the checkout, leaving customers with already squeezed household budgets due to the rising cost of living - out of pocket.
This week Which? identified more everyday products subjected to the 'grocery shrink-ray' - a practice first highlighted by the Mail in 2001.
However, manufacturers say they are simply responding to increases in energy, transport and ingredients costs.
Which? found that a one litre tub of Carte D'Or Vanilla Light, Vanilla and Rum and Raisin ice cream had been slashed by 10 per cent to 900ml and a pack of Magnum ice creams was 330ml instead of 360ml.
Meanwhile, a bottle of Ariel Excel Gel with Febreze was 11 per cent smaller with shoppers only getting 592ml instead of 667ml.
The watchdog discovered the size difference when researchers ordered a series of products online at Tesco and noticed they weren't getting what they expected.
A spokesman said: 'None of the prices had been reduced.'
He said Tesco should notify customers if they are going to receive smaller versions of the items.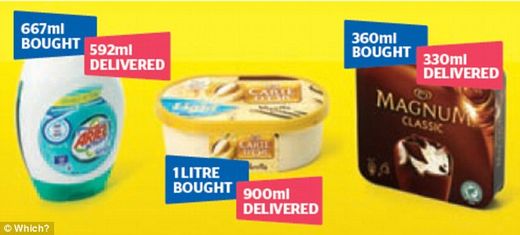 The three latest products which have been slashed in size. Watchdog Which? discovered them when they ordered a series of products online at Tesco
Which? said shrinking products was an 'underhand way to raise prices' and called for labelling to be clearer so it's easier to tell if you are getting less for your money.
Researcher Matt Clear told the Daily Mirror shoppers wouldn't have a problem with shrinking packs if this was reflected in the prices.
A Unilever spokesman, which makes the two ice cream brands, said the drop in pack sizes was down to rising commodity prices.
She said Magnums had been affected as the price of vanilla and cocoa had risen.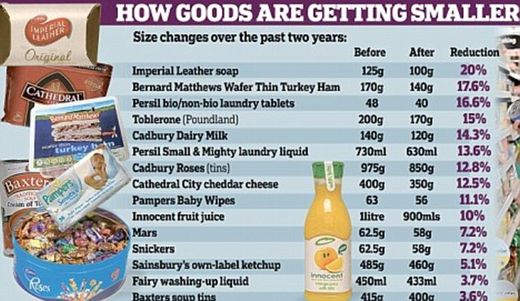 Other products which have shrunk in the last two years revealed by the Daily Mail in September last year
The firm which makes Ariel, Procter & Gamble, said it told supermarkets three months ago that it was changing its pack sizes.
Meanwhile, Tesco said: 'Our suppliers are required to inform us of changes to their products, so that we can update our customers.
'We are sorry that this hasn't happened in a small number of cases, and are reminding all our suppliers of their obligations'.
Other products which have made the shopping list of shame in the last few months include Pampers Baby Dry Maxi as in March it was revealed that there are now two fewer nappies.
It also found that jars of Loyd Grossman Balti Curry Sauce have shrunk from 425g to 350g and tubs of Dairylea Cheese Spread are now 40g lighter.
In September Fairy washing-up liquid came under the spotlight - it has gone from 450ml to 433ml, but with no corresponding drop in price.
Persil bio and non-bio laundry tablets are now sold as a 40-tablet (20-wash) pack, but used to come in a pack of 48.
Sainsbury's cut its own-brand ketchup from 485g to 460g, but the price remained at 95p.