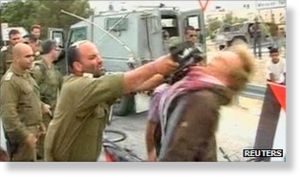 Israeli army officer smashes Danish peace protester in face with his rifle.
Lieutenant-Colonel Shalom Eisner is seen ramming his M-16, with both hands, into Danish national Andreas Ias's face as activists took part in a bicycle rally in the occupied West Bank. The incident took place on Saturday 14th April 2012 in the Jordan Valley, near Jericho, where several dozen activists - Palestinian and international - had joined a protest bicycle ride.
They say their planned route was blocked by Israeli soldiers who told them to turn back for their own safety.
The video from Saturday's incident shows him falling to the ground and then being carried away by activists.
.