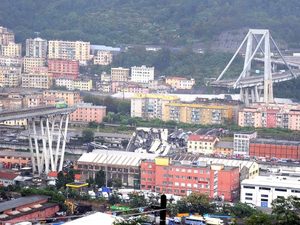 14 August 2018: Morandi Bridge in Genoa, Italy, collapses during a storm, killing 35 people
If the doors of perception were cleansed, everything would appear to man as it is, Infinite. For man has closed himself up, till he sees all things thro' narrow chinks of his cavern.

'The Marriage of Heaven and Hell'
- William Blake
Recent Comments
good luck in the pen big guy
---
It's kind of weird, almost like telling your audience what they're supposed to be thinking or experiencing. Like some sort of subtle mind...
---
Has any dentist in America used that in the last 20 years?
---
" Claiming that Muslim Australians are unable to integrate, he said adherents of Islam "do not work and live on welfare," and bring the threat of...
---
Hmm...so an artificiality created placenta, what is the next step artificially created fetuses then an artificially created human, reminds me of...