About Lisa Guliani
Lisa Guliani is a former internet-based political talk show host, political writer, researcher, activist, conscientious objector, "known protester', and self-described thought provocateur. When she's not engaged in some odd combination of the above, she's handing out smiles to the elderly, and also enjoys reading, music, cracking jokes, and hanging out with her buddy, Goose, who has yet to realize he's a dog. Her favorite sections of SOTT?
It's a three-way tie: Secret History, Puppet Masters and Society's Child.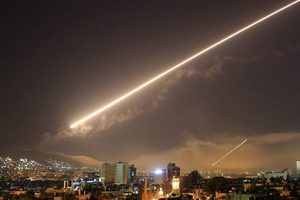 Syrian air defense systems protecting Damascus - the oldest continuously-inhabited city on Earth - from Western airstrikes, 14 April 2018
All truths are easy to understand once they are discovered; the point is to discover them.
- Galileo Galilei
Recent Comments
First, I am pleasantly surprised. I wonder if one factor in her decision was the fact that the amount of the award was increased, perhaps...
---
This anti-semitism is NOT OKAY. As a descendant of holocaust survivors (grandparents) I must remind everyone to never tolerate this kind of...
---
Because of all the incidents the boy now needs psychological treatment, and the perpetrators? They barely get any sanctions because they are...
---
Obstruction of justice is sufficient evidence to suggest that HMG has something to hide.
---
Now that's a 'friend' we all need ... Lend 4 billion dollars please? Thanks, dude!