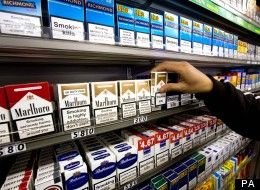 A ban on tobacco promotion comes into force on Friday in a bid to cut down on the number of people smoking.
The new legislation means all large shops and supermarkets in England must cover up cigarettes and hide tobacco products from public view.
The Department of Health said the move was in response to evidence that cigarette displays in shops can encourage young people to take up the habit.
More than 300,000 children under 16 try smoking each year and 5% of children aged 11 to 15 are regular smokers, according to its figures.
Meanwhile 39% of smokers say that they were smoking regularly before the age of 16.
Health secretary Andrew Lansley told the BBC on Friday morning he'd eventually like society to become "smoke free."
"Frankly I'd like us to arrive at a place where pretty much we have a smoke free society. It is not like other things, it is not like alcohol, you know drink is a normal part of life, it is a perfectly acceptable part of life and it doesn't cause people any harm in moderation," he said. "Smoking isn't like that and we arrive at a place where two thirds of smokers say they started smoking under the age of 18, where large numbers become habitual smokers or addicted to nicotine."
Shadow public health minister Diane Abbott welcomed the ban, saying: "Reducing smoking prevalence, particularly amongst the most disadvantaged in society, is the most effective means of improving public health and reducing inequality. Smokers start as children and continue as addicts: two thirds of smokers start before the age of 16 and the vast majority while still teenagers."
Under the new rules all tobacco products must be kept out of sight except when staff are serving customers or carrying out other day-to-day tasks such as restocking.
Those found not complying with the law could be fined up to £5,000 or face imprisonment.
The ban on displays will roll out to smaller shops and businesses in three years time while the government is also consulting on introducing plain packaging for packets of cigarettes and other tobacco products.
A spokesperson for British American Tobacco
said they did not believe the ban would work
: "We do not believe that hiding products under the counter or behind curtains or screens will discourage people, including the young, from taking up smoking.
"There's no sound evidence to prove display bans are justified."