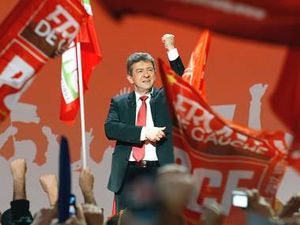 Three weeks from the first round of voting, a surge in support for the hard-left candidate Jean-Luc Mélenchon threatens to scramble forecasts for the French presidential elections.
An opinion poll published yesterday put Mr Mélenchon, 60, in third place with 15 per cent of the vote - the highest for a candidate of the anti-capitalist left since the heyday of the French Communist party 30 years ago.
The rise of Mr Mélenchon, a kind of Gallic George Galloway who fulminates eloquently against the mainstream élites of both centre-right and centre-left, has relegated Marine Le Pen's far right National Front into fourth position. For President Nicolas Sarkozy and his principal challenger, the Socialist candidate François Hollande, the emergence of Mr Mélenchon is a double-edged sword - helpful but dangerous.
Yesterday's poll by LH2 for Yahoo! showed Mr Hollande retaining a narrow lead of 28.5 per cent to Mr Sarkozy's 27.5 per cent in the first round on 22 April. Other recent polls have suggested that Mr Sarkozy, boosted by his hard-right rhetoric and exploitation of the Toulouse murders, has taken a one or two-point first-round lead.
All polls still show Mr Hollande winning the two-candidate run-off on 6 May by a 10-to-six point margin.
But two factors threaten to throw the machinery of electoral strategy and political forecasting into a spin: the growing disenchantment of the French electorate with all mainstream politicians and a campaign that has failed to grapple convincingly with national, European and global economic crises.
Only 74 per cent of voters say they are certain to turn out, compared with 81 per cent at this stage in the 2007 campaign. A low poll could produce a maverick result, as it did in 2002 when Ms Le Pen's father reached the second round.
The second factor upsetting all calculations is the surge of support for Mr Mélenchon's high-energy, anti-EU, anti-American, anti-big finance campaign. Mr Mélenchon, an ex-Trotskyist and ex-Socialist, has swept up most of the support that normally scatters in the first round over candidates of the "further left". His call for a people's revolution, overturning existing financial and political institutions, has united - unexpectedly - some Greens, the remaining Communists, various Trotskyists, and the anti-globalist "alternative" left.
Mr Mélenchon has also started in recent weeks to take blue-collar votes away from the far right National Front and - significantly - from the Socialist candidate, Mr Hollande. Other polls in recent days have shown him neck and neck with the far-right candidate, Marine Le Pen, and the centrist François Bayrou. The LH2 poll showed Mr Mélenchon emerging clearly as the campaign's "third man" for the first time. Mr Sarkozy and his supporters have been, on the whole, delighted by Mr Mélenchon's rise. Statistically, it has helped the President close the first- round gap with Mr Hollande. Tactically, it could force the Socialist candidate to turn further to the left, angering floating voters of the centre.
Arithmetically, however, a combined Hollande-Mélenchon first-round vote of 43 per cent suggests the electoral mood favours a candidate of the left. Most Mélenchon voters should, in theory, transfer to Hollande on 6 May. Despite the resurrection of the President's campaign in the last month, his pool of potential support in the second round is much smaller than it was in 2007.
For Mr Hollande, the rise of Mr Mélenchon is also dangerous. The enthusiasm for the eloquence and bombast of the hard-left candidate is, in part, a rejection of Mr Hollande's careful, uninspiring brand of social-democratic, pro-European managerialism.
Some far-left supporters suggest Mr Mélenchon could yet overtake Mr Hollande and reach the second round. This seems unlikely. If it did happen, Mr Sarkozy would win on 6 May by a landslide. Moderate-left voters, even some harder-left voters, know that. They may drift back to Mr Hollande in the next three weeks. Others may not vote at all.
Mr Hollande has said the "real threat" to his momentum, and a good first-round score, was a low turn-out on 22 April.