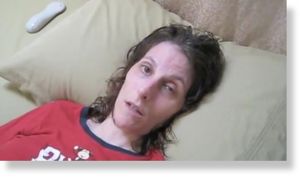 A California woman who says she is dying from a brain tumor was kicked out of a California hospital this week for using doctor-prescribed medical marijuana.
Angel Raich told NBC Bay Area that the UCSF Medical Center in San Francisco asked her to leave after she refused to stop using the drug.
"I'm in a state university hospital in the state of California," she explained. "And I have a right to have the same medical care that any other patient does, and [the pharmacist] says, 'We're going to have to ask you to leave then if you're not going to not use your cannabis.'"
As Raich was speaking to the NBC Bay Area reporter outside of UCSF Medical Center, she had a seizure and was taken to St. Mary's Medical Center in San Francisco.
UCSF Medical Center released statement saying that their smoke-free policy extended to marijuana use.
"Even a vaporized form of medical marijuana releases particles in the air that are damaging to the lung," according to the statement. "Any particles from vapor and odor could have an impact on other patients and hospital employees. Under federal and state law, a physician is at legal risk related to any activity that could be construed as prescribing medical marijuana to a patient."
In a case that went all the way to the Supreme Court, Raich sued the federal government in 2002 on the grounds that the Controlled Substances Act was unconstitutional. Her doctor
testified
(PDF) that she would likely "suffer imminent harm" without marijuana because she was allergic to most other medications.
"Nausea, anorexia resulting in weight loss, risking malnutrition, cachexia, starvation and death constitute harm," Dr. Frank Lucido told the court. "Angel needs to medicate every two waking hours. If she misses a treatment, it could quickly have dangerous repercussions for her health."
The Supreme Court ruled in 2005 that banning marijuana for medical use was a reasonable way for Congress to prevent it from being used for other purposes.
Last year, Raich revealed that she was dying from radiation necrosis.
"Patient's [sic] who get radiation necrosis do not survive, and there's very little research," she wrote on her
website
. "I have a extremely complex medical condition and I can only hope the doctors at UCSF Medical Center can review my records and figure out what's really happening inside my brain before I dye [sic] so I can at least have absolution at the end-of-life."