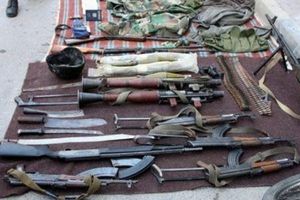 In a bold case of the pot calling the kettle black, Israeli officials are warning that weapons from the Syrian authorities could end up in the hands of Muslim terrorists, when Israel and the West are almost certainly arming terrorists in Syria.
Defense officials told
Haaretz
yesterday, that Hezbollah, based in Lebanon and other terror groups, could end up with large amounts of weapons from the Assad regime, including SA missiles, high-trajectory long-range rockets and missiles, and biological and chemical weapons.
No evidence was given to support their claims. Much like Iran's nuclear threat, Israel is operating from the position of "ifs and maybes", a stance that essentially means they can accuse anyone of anything without proof.
"What has been passed on to Hezbollah so far? What will be passed on in the future? What will be divided between the two factions in Syria?" Said Israel Air Force chief Maj. Gen. Amir Eshel.
Perhaps a more important question we should be asking is who is providing weapons to the rebels in Syria?
Gen. Eshel stated, as far as Assad's fall is concerned, "the question is when, not if." Does that mean Israel are lending a helping hand?
Reports
that even made it to the Israeli press note that President Bashar Assad's security forces claim to have seized huge quantities of weapons used by rebels across the country, including
Israeli-made arms
.
They did not deny the reports, preferring to call them unconfirmed. As brazen as Israel are, they're not likely to admit such covert operations.
Jewish US Senator Joe Lieberman echoed Gen. Eshel's warning. He told the
Lebanese Daily Star
:
"The question is not whether (President Bashar Assad) will go, but when he will go."
How does he propose this is accomplished?
The article continues:
"If Russia and China don't change their minds about the veto ... then the world will not allow us to say there's nothing we can do about it," Lieberman said.

"So we should begin thinking about what we can do, particularly with the Arab League," he said. "I think it begins with support for the Syrian Free Army."
The hawkish senator said a "range of support" could be given to the rebels, from medical supplies to intelligence and reconnaissance surveillance.
"
And then ultimately it is providing them with weapons
," he said during a panel discussion on the Middle East.
So they are claiming with certainty that Assad will fall, have publicly contemplated arming the rebels to accomplish this and reports suggest Israeli arms are already in Syria.
It doesn't take a genius to connect the dots.
The Western/Israeli pact are covertly arming the rebels, while trying to play peace-keeper at the UN.
And this isn't anything new.
People seem to have short memories.
In November
The Telegraph
reported that the new NATO backed Al Qaeda linked Government in Libya had secret talks with the Syrian rebels to secure weapons and money for their insurgency against President Bashar al-Assad's regime.
Former CIA officer Phil Giraldi goes in to more detail on how the operation is being carried out:
Unmarked airplanes belonging to NATO countries are landing at Turkish military bases close to the Syrian border. These flights deliver weapons originating from the arsenals of the late Muammar Gaddafi. The airplanes also contain volunteer fighters from the Libyan transitional council, 'experienced in pitting local volunteers against trained soldiers, a skill they acquired confronting Gaddafi's army'. Also the next step has been taken. French and British special forces trainers are on the ground, assisting the Syrian rebels while the CIA and U.S. Spec Ops are providing communications equipment and intelligence to assist the rebel cause, enabling the fighters to avoid concentrations of Syrian soldiers. [1]
Other commentators have further revealed the web of arms deals backed by the West, Israel and their Middle-Eastern puppet states.
Dr. Haytham Mannaa, spokesman for the Arab Commission for Human Rights confirmed in discussions with Lebanese al-Manar television website that he was invited to a meeting in a Paris cafe with a Syrian businessman who had dual Syrian-French nationality. He was accompanied by three other Syrians and a reporter for al-Jazeera. The talks focused on Syria and "...the needs of the youth in Daraa, Syria. The Syrian businessman with the Western nationality offered to arm Syrian opposition groups both qualitatively and quantitatively." Dr. Mannaa has reported that he and the other Syrians were stunned at what they had heard.
The offer was categorically rejected, according to Dr. Mannaa. He then informed the movement leaders in Daraa, his hometown, that under no circumstances should they accept offers of arms regardless of their origin, and no weapons should be used. This would be a disaster for the opposition, fully aware that any regime confronted with this kind of challenge would come down hard and easily crush the uprising. The reply he received was that no weapons would enter the district of Daraa. It is, however, clear that while those leading the movement in Daraa may not have accepted arms from Syrian agents working for the West,
there have been several instances of unidentified men driving in fast moving cars shooting at demonstrators
. Some policemen have also been shot and wounded. Who are these people? The Syrian government insists these are foreign agents. Given the discussions in the Parisian cafe, could this not be a possibility?
Dr. Mannaa has also revealed that the Paris cafe arms offer was not the first its kind. "There were two other armament offers, one of them came from a Lebanese party that is currently at odds with Syria," Dr. Mannaa was quoted as saying. This was an indirect reference to Hariri's Future Movement that is backed by the US, Israel and Saudi Arabia. Once again, there is proof of the trio's dirty tricks. [
2
]
So Israel may whine about the possibility of Syrian arms ending up in the hands of Muslim terrorists, but the Western/Israeli pact are supplying arms to rebels within Syria, utilizing some of those very Muslim terrorists that are stationed in Libya.
What a strange world we live in.