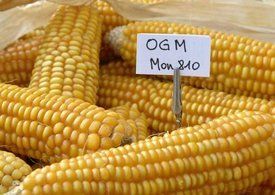 France has asked the European regulators to suspend the authorization to plant Monsanto's genetically modified (GM) MON810 corn. France's ecology minister says the decision is based on studies showing GM crops
"pose significant risks for the environment."
Agence France-Presse
reports
:
The request is "based on the latest scientific studies" which show that the use of the GM crops "pose significant risks for the environment," the ministry said in a statement.

The ministry pointed to a recent study by the European Food Safety Authority (EFSA) that raised concerns with another form of GM crop, BT11, that it said could also be applied to MON 810.

"If the European Union does not act, we can invoke the safeguard clause" which allows EU nations to independently restrict or prohibit the sales of products, it said.

President Nicolas Sarkozy in November pledged to seek new legal measures after the European Court of Justice and France's top administrative court overturned a French ban on GM crops from US agriculture giant Monsanto.
France tv info
writes
that six countries in the EU also ban the cultivation of genetically modified corn: Germany, Hungary, Greece, Luxembourg, Austria et Bulgaria.
Last week a French court found Monsanto legally responsible for the 2004 poisoning of a farmer with one of its herbicides.
Comment:
For more in depth information about the ongoing issue with GMO crops in France read the following articles:
France Takes Stand Against GMOs, Monsanto Despite End of Ban
France is the latest nation to voice opposition against genetically modified crops, with GM maize unlikely to hit French fields next year despite the end of a ban Monsanto maize. The news comes as evidence compiles that French legislatures will launch new restrictions regarding the use of Monsanto's 810 maize on French soil.
Grounds for French ban on GMOs annulled by EU high court
France cannot ban food and feed with genetically modified organisms based on the emergency safeguard clause it cited for its 4-year ban, ruled the Court of Justice of the European Union on September 8, 2011, without proof of a "clear and serious risk to human or animal health or the environment." [1]

This comes on the heels of Tuesday's high court ruling that all food products containing GMOs - whether intentional or not - must undergo an approval process. GMO opponents applauded that tightening of restrictions, since it paves the way for damage claims by those whose crops or honey become genetically contaminated by neighboring GM fields.

Today's ruling, however, counts as a win for Monsanto and the EU Commission in their ongoing power struggle to defeat independent sovereign rejection of GMOs on the precautionary principle - a far less stringent, but more scientifically sound standard that acknowledges the dangers of genetic manipulation.