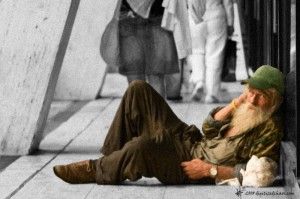 Rick Santorum has said a lot of dumb things in his feeble existence. He has pushed extreme religious views, accused President Obama of wanting to exterminate religious people and he has made many hateful statements about women and the LGBT community. Santorum has largely avoided making as many gaffes about the economy which may be one reason why Romney is falling in the polls, but Santorum decided to talk about the auto industry bailout during a speech at the Detroit Economic Club on Thursday, and made some stunningly stupid comments about income inequality.
There is income inequality in America. There always has been and hopefully, and I do say that, there always will be. Why? Because people rise to different levels of success based on what they contribute to society and to the marketplace and that's as it should be. We shouldn't have a society that has a President who envies or creates class warfare or envy between one group of people and another. We should celebrate like we do in the small towns all across American as you do here in Detroit. You celebrate success. You build statues and monuments. Buildings, you name after them. Why? Because in their greatness and innovation, yes, they created wealth, but they created wealth for everybody else, and that's a good thing, not something to be condemned in America.
Watch the video of that speech here.
That's right, Santorum just praised the income inequality that has largely crippled the middle class over the last 30 years and he hopes it continues. Santorum's statement is just as bad as Romney saying he doesn't care about the poor. The reason why Detroit built monuments to the great auto makers is because they did indeed once create wealth for others. Those captains of industry knew that taking good care of their workers meant that everyone would thrive. But that's not the case today.
Today's wealthy businessmen are not concerned about the livelihood of the workers who help them get rich. Wealthy businessmen are only concerned about their bottom line and how to get more profit. To CEOs in America, that means laying off thousands of workers and giving the jobs to slave laborers overseas and then jacking up the product prices so that Americans struggle to buy them.
These CEOs also attack wages, pensions and health care and make it even harder for Americans to get by.
The captains of American industry no longer wake up every morning thinking about how to make the economy stronger and their workers more financially secure. They wake up every morning thinking about how they can screw over their workers to make more profit for themselves. And that is exactly what Rick Santorum is rooting for.