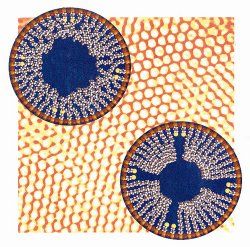 Without research into risks, "the future of safe and sustainable nanotechnology-based materials, products, and processes is uncertain"
Not enough is known about the potential hazards of nanotechnology, and millions of dollars more a year are needed to study the potential health and environmental effects of it, said the National Research Council yesterday.
The panel's findings come from a study sponsored by the EPA.
Reuters
reports
:
Nanotechnology involves designing and manufacturing materials on the scale of one-billionth of a meter. It is used in areas ranging from stain-resistant clothing and cosmetics to food additives. [...]

"Despite the promise of nanotechnology, without strategic research into emergent risks associated with it -- and a clear understanding of how to manage and avoid potential risks -- the future of safe and sustainable nanotechnology-based materials, products, and processes is uncertain," said the study by a committee of 19 scientists.
The
New York Times
adds
:
The panel called for a four-part research effort focusing on identifying sources of nanomaterial releases, processes that affect exposure and hazards, nanomaterial interactions at subcellular to ecosystem-wide levels and ways to accelerate research progress.
Last month, a
coalition of consumer safety and environmental groups
sued
the FDA over inaction on nanoparticles:
The lawsuit demands FDA respond to a petition the public interest organizations filed with the agency in 2006, nearly six years ago. The coalition is led by the International Center for Technology Assessment, on behalf of fellow plaintiffs Friends of the Earth, Food and Water Watch, the Center for Environmental Health, the ETC Group and the Institute for Agricultural and Trade Policy.

"Nano means more than tiny; it means materials that have the capacity to be fundamentally different. Yet more and more novel nanomaterials are being sold infused into new consumer products every day, while FDA sits idly by," said George Kimbrell, ICTA Attorney. "The agency's unlawful delay unnecessarily places consumers and the environment at risk."

The eighty-page petition documents the scientific evidence of nanomaterial risks stemming from their unpredictable toxicity and seemingly unlimited mobility. The 2006 petition requested that the FDA take several regulatory actions, including requiring nano-specific product labeling and health and safety testing, and undertaking an analysis of the environmental and health impacts of nanomaterials in products approved by the agency.

"Year after year goes by but we have yet to see the FDA do the bare minimum and require nanosunscreens to be labeled as such. This is a basic consumer right," said Ian Illuminato of Friends of the Earth. "We're well past the 1800s -- nobody likes or should be forced to use mystery chemicals anymore."

"It is unacceptable that the FDA continues to allow unregulated and unlabeled nanomaterials to be used in products consumers use every day," said Wenonah Hauter, executive director of Food & Water Watch. "It is past time for this agency to live up to its mission and protect public health by assessing the health and environmental risks of nanomaterials, and to require labeling so that consumers know where these new materials are being used."

"The scientific consensus is that nanomaterials require specific testing to account for their novel capacities and potential risks. The FDA must do such testing as part of a pre-market safety assessment in a broader regulatory initiative to protect public health," said Steve Suppan of the Institute for Agriculture and Trade Policy.
A 2009 report from Food & Water Watch titled "Unseen Hazards: from Nanotechnology to Nanotoxicity" (
pdf
) looked at the ubiquity of nanotechnology in the food system:
For a snapshot of nanotechnology in the food system, consider the following:

At the farm, fertilizers and pesticides containing nanoparticles of clay and other materials are touted for their slow-release mechanisms and potency.

Food itself can contain nanoparticles, such as cured meats and sausages, nano-tea, and the wide variety of nutritional supplements containing nanosilver. Research and development is underway to use nano- technology in myriad aspects of food processing.

In the kitchen, we prepare food using kitchenware and cutting boards that employ anti-microbial nanosilver technology, and store food in refrigerators also coated with nanosilver.

When we package food to put in the refrigerator or take with us to work, a large number of food containers and wrappings are incorporating nanotechnologies into their manufacture, even though there is a threat that nanoparticles could actually migrate from the packaging into the food itself.
The report also linked nanoparticles to:
Damage to DNA
Disruption of cellular function and production of reactive oxygen species
Asbestos-like pathogencity
Neurologic problems (such as seizures)
Organ damage, including significant lesions on the liver and kidneys
Destruction of beneficial bacteria in wastewater treatment systems
Stunted root growth in corn, soybeans, carrots, cucumber and cabbage
Gill damage, respiratory problems and oxidative stress in fish
The Campaign for Safe Cosmetics has an
overview
of sunscreens and cosmetics containing nanoparticles.