Thousands of Iraqis have taken into the streets in the western city of Fallujah to celebrate the withdrawal of US troops from the country.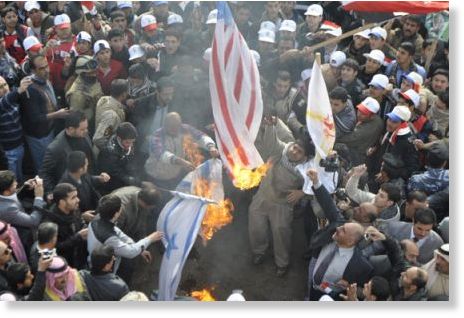 Burning US and Israeli flags and carrying photos of Fallujah residents killed by US forces after the 2003 US-led invasion, the demonstrators on Wednesday described resistance against American invaders key to their country's freedom.
The demonstration was dubbed the first annual "festival to celebrate the role of the resistance".
"Celebrations mark a historical day for the city of Fallujah and we should remember in pride the martyrs who sacrificed their blood for the sake of this city," Reuters quoted Dhabi al-Arsan, deputy governor of Anbar province, as saying.
"I'm glad to see the Americans are leaving Iraq. It's only now we truly feel the taste of freedom and independence. We will not see American forces anymore. They remind us of strife and destruction," said a Fallujah resident.
Fallujah, located about 60 kilometers west of the capital Baghdad, was once a center of resistance against US-led occupation of Iraq. The US military launched two massive offensives against the city 2004 and 2005, in which
over 2,000 Iraqi civilians were killed
.
The signs of the deadly attacks are still visible today in collapsed buildings and bullet holes in walls and a rise in the number of birth defects in the city in the years following the attacks. The US military used white phosphorous and depleted uranium in the attacks.