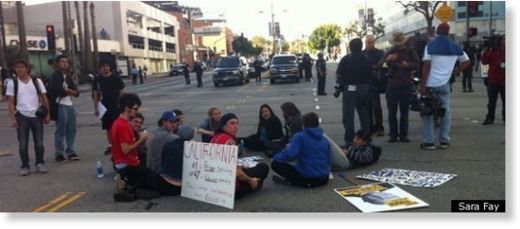 If the 200 protesters marching down Westwood Boulevard Wednesday were looking for attention, they found it. But not all of it was productive.
Though their goals were similar, Wednesday's march was a far cry from Occupy UCLA's short-lived campout and quiet table on Bruin Walk just a week ago.
The protesters started at the heart of campus in Bruin Plaza and headed into the Village. The intersection of Wilshire and Westwood boulevards was shut down. Marchers sat in the street, blocking traffic. Eleven were arrested, seven of them students.
A disturbance was made, a voice was heard. All in the name of calling University of California students to fight against tuition hikes and the state to reinvest in higher education.
And while many of the marchers were UCLA students, they weren't led by their peers. The protest was the first event in a week of action organized by ReFund California Coalition, an offshoot of the Occupy Wall Street movement that demands more funding for higher education.
ReFund announced its plans over the weekend and began circulating a petition to find new sources of tax revenue that has already garnered more than 100 signatures from UC faculty.
This board wonders why, though, it took an outside force to rouse enough UCLA support to create a significant stir about student interests.
We commend the group for successfully mobilizing a student population that has been dragging its feet.
UCLA students upset with tuition hikes have been lacking the motivation and creativity that this protest demonstrated in seeking alternative funding.
While the march made many strides in the right direction, this protest had one fatal flaw in resorting to illegal actions.
This board does not condone blocking a heavily used intersection near a major medical hospital, a roadblock that also ironically prevented members of the 99 percent from making it to work.
Unlawful conduct is not only an irresponsible practice but also leaves a bitter aftertaste, detracting from what was on the whole a relatively successful protest.
Future protests should be provocative but lawful when asking for positive change. Calling for the state's investment requires that students demonstrate they are deserving.
Overall, Wednesday's march provided the momentum needed to fuel future efforts at securing more funds for higher education.
Protests are scheduled for Wednesday when the UC Board of Regents meets at UC San Francisco to discuss a budget plan for 2012-2013.
The real test is to see what ReFund California and like-minded individuals do with this attention leading up to the meeting next week.