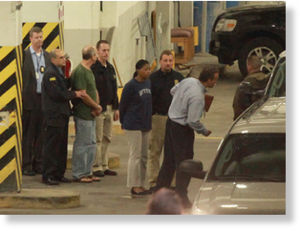 A $1 billion disability scam for retiring Long Island Rail Road workers was exposed Thursday with the arrest of 11 people - including a pair of crooked doctors, authorities said.
Orthopedists Peter Ajemian and Peter Lesniewski recommended nearly 1,000 LIRR employees for illegal benefits between 1998-2009, turning their offices into "disability mills," according to a criminal complaint.
Arrested along with the two physicians were Ajemian's office manager, a former LIRR union president, a one-time official with the Railroad Retirement Board (RRB) and a half-dozen ex-LIRR employees.
"The defendants and their co-conspirators participated in a massive fraud scheme in which LIRR workers who were ready to retire falsely claimed to be disabled," federal authorities charged in a 74-page criminal complaint.
The arrests capped a three-year probe into the stunningly high approval rate of disability pensions for retiring LIRR employees.
The complaint charged that Ajemian recommended at least 734 LIRR workers for disability over the 11-year stretch, while Lesniewski approved 222 railroad employees.
In return, the doctors were typically paid between $800 and $1,200 cash, with the resulting extra benefits coming from the pockets of taxpayers.
The workers who double-dipped by collecting pensions from the LIRR and the RRB filed the bogus disability claims - and went on to become very active retirees, the complaint said.
Retired LIRR engineering manager Gregory Noone collected a combined $105,000 with his disability pension. Despite his severe pain, he was a regular tennis player and a fixture on a local golf course, officials said.
Ex-railroad human resources manager Sharon Falloon cited "disabling pain" in collecting her disability. But investigators spotted her in a step aerobics class, part of a two-hour workout.
One-time LIRR sign operator Steven Gagliano completed a 400-mile bike tour in northern New York after filing a disability claim for "severe and disabling pain in back, shoulder and legs."
In another twist, officials charged that the "injured" railroad workers often worked extra overtime in their last years on the job to boost their pensions.
The scam operated by insuring the LIRR workers - who can retire at age 50 - were able to collect a supplementary pension from the RRB, the complaint charged.
Typically, the railroad workers couldn't collect from the RRB until age 65. The bogus disability papers filed by the orthopedists allowed them to start receiving monthly checks as soon as they retired, the complaint said.
Ajemian, through the cash payments and billings to private insurers, collected an illegal $2.5 million windfall between September 2004-September 2008.
The 453 workers who received his phony paperwork have collected more than $90 million in disability payments, the complaint charged.
The defendants were awaiting arraignment in Manhattan federal court Thursday, said FBI spokesman J. Peter Donald.
Congressional investigators found in 2009 that the system approved nearly 100% of claims filed by retired LIRR workers - a rate far greater than other commuter rail lines, including the Metro North, an agency of comparable size that also serves the city and outlying suburbs.