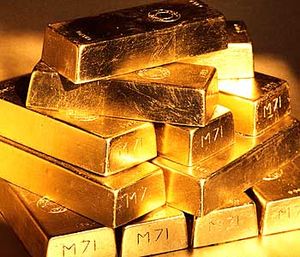 Gold ended at a new record high amid growing speculation the U.S. won't be able to resist another round of stimulus and broader worries about the global economy.
Meanwhile, a six-month-long civil conflict in Libya is drawing towards a conclusion, re-igniting concerns about political instability in the region.
The most actively traded contract, for December delivery, gained $39.70, or 2.1%, to settle at a record $1,891.90 a troy ounce on the Comex division of the New York Mercantile Exchange. The contract touched an intraday record of $1,899.40.
Thinly traded August-delivery gold settled at a record $1,888.70 a troy ounce, up $39.80, or 2.2%, after touching an intraday record of $1,895.00.
Investors are eagerly awaiting Federal Reserve Chairman Ben Bernanke's speech at an economic symposium in Jackson Hole, Wyo., on Friday. Last year the Fed chairman raised the idea of further monetary stimulus in his speech, and many investors are buying gold in hopes of similar hints this year.
"Should Bernanke put a damper on [stimulus] expectations, the yellow metal could well experience the correction that potential investors have been impatiently awaiting," said Edel Tuly, a strategist with UBS.
While some investors are buying gold to hedge against inflation, which is likely to arise from another round of stimulus, others are worried the U.S. economy will slip into recession without such help and are purchasing gold to hedge against possible losses in other assets.
Gold prices are also rising amid renewed appetite for a hedge against political uncertainty. In Libya, rebels seized control over most of the nation's capital, Tripoli, over the weekend. The whereabouts of Libyan leader, Col. Moammar Gadhafi, are unknown.
Gold locked in its sixth straight trading day of gains and is trading just shy of $1,900 as market participants continue to buy up the precious metal.
Investors have voted with their dollars as the cloudy prospects of the U.S. economy and rising stock market volatility sees more funds channeled towards gold.
The value of SPDR Gold Shares (GLD), the world's largest physical-gold-backed exchange traded fund, surpassed that of SPDR S&P 500 (SPY) ETF Friday. Net assets for SPDR Gold Shares totalled $76.67 billion as of Friday, outpacing the $74.38 billion of the S&P ETF.
"While investors may be using gold to tactically hedge against current market concerns, there is a long-term strategic case for gold in all market cycles," said Jim Ross, senior managing director and global head of SPDR ETFs at State Street Global Advisors, the marketing agent for SPDR Gold Shares.
However, gold's record high prices leave it vulnerable to a pullback of $50 or $60 as longer-term investors may decide to cash in some of their gains, said Scott Meyers, senior trading analyst with Pioneer Futures.
"People who are joining the rally right now are getting in a bit late," Meyers said.
Platinum settled at a three year high amid spill-over buying as investors seek to diversify their holdings of precious metals. Platinum's success, in particular, was also aided by hopes of an early recovery in Japan's automotive production, which was stalled by a massive earthquake and tsunami earlier this year, said George Gero, vice president at RBC Capital Markets Global Futures.
Platinum is widely used in making car exhaust filters, known as catalytic converters.
Platinum for October delivery, the most actively traded contract, settled at $1,905.70 a troy ounce, up $30.80 or 1.6%, after touching an intraday high of $1,906.80.
Source: Dow Jones Newswires