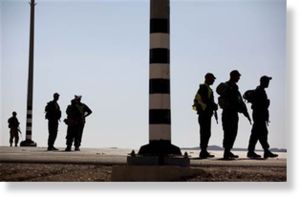 Israeli military warns it 'will respond in strength and exact a price'; Hamas denies involvement
Israeli aircraft struck militant outposts in Gaza and Palestinians fired more than a dozen rockets into southern Israel on Friday as violence escalated following deadly gun attacks along Israel's desert border with Egypt.
Tensions between Israel and Egypt also grew, with Cairo issuing a formal protest over the death of three of its security guards, who, it said, where killed when Israeli forces hunted for the gunmen behind Thursday's roadside ambushes.
Eight Israelis perished in the border assault and at least seven of the attackers also died as Israeli forces tracked them down along the largely open frontier with Egypt.
Israel swiftly pinned the blame on a Palestinian group that is independent of the Hamas Islamist movement which governs Gaza. An airstrike killed the faction's leadership on Thursday and there were numerous other strikes throughout Friday.
"We have a policy of exacting a very heavy price of anyone who attacks us and this policy is being implemented," Israeli Prime Minister Benjamin Netanyahu said on Friday while visiting wounded compatriots in hospital.
Palestinians said at least nine militants had died in the multiple strikes as well as two children, one aged 2, the other 13. Huge crowds gathered for the funerals, chanting anti-Israeli slogans and vowing revenge.
Militants in the tiny coastal enclave fired 14 rockets at southern Israeli cities on Friday, the Israeli military said. Two rockets targeting the city of Ashdod hit a synagogue and a school, injuring two people.
Israel said Thursday's attackers had slipped out of Gaza and into Egypt's Sinai desert, and then headed south before infiltrating Israel close to the Red Sea resort of Eilat.
Israeli leaders accused Egypt's new military leaders of losing their grip on the Sinai peninsula. Cairo has rejected the charge, but Israel fears that its once sleepy southern flank is rapidly becoming a major security threat.
"We would hope that yesterday's terrorist attack on the border would serve as an impetus for the Egyptian side to more effectively exercise their sovereignty in Sinai," said a senior Israeli official, who declined to be named.
Egypt protests
Egyptians were angered over the death of an army officer and two security officials on their side of the border on Thursday, although it was not clear how they died.
Eyewitnesses said the attackers had disguised themselves as Egyptian security forces.
"Egypt has filed an official protest to Israel over the incidents at the border yesterday and demands an urgent investigation over the reasons and circumstances surrounding the death of three of Egypt's forces," an army official said.
The Israeli military said there was an exchange of fire between its troops and the militants along the border on Thursday night. "The IDF (army) will investigate the matter thoroughly and update the Egyptians," it said in a statement.
Israeli forces had been on high alert for a possible attack in the region this week and it was swift to blame the Popular Resistance Committees (PRC) armed faction.
The PRC said its commander, Kamal al-Nairab, his deputy, Immad Hammad, and three other members were killed in Thursday's air strike on a home in Rafah, by the border with Egypt.
The group denied involvement in Thursday's ambushes, but did claim responsibility for some of Friday's rocket fire.
The sparsely populated Sinai forms a huge desert buffer zone between Egypt and Israel, who sealed an historic peace treaty in 1979 after fighting two wars in less than a decade.
Israel enjoyed good relations with U.S.-backed former Egyptian President Hosni Mubarak, but following his downfall in February, Israeli officials have regularly voiced concern about a security vacuum along their joint border.
In Washington, U.S. Secretary of State Hillary Clinton condemned the "brutal and cowardly attacks" on the Israelis near Eilat. She said the violence "only underscores our strong concerns about the security situation in the Sinai Peninsula".
The attack signaled a new danger for Israel from its border with the Sinai Peninsula, long quiet under the rule of Egyptian leader Hosni Mubarak.
He was deposed in February, and the desert of the Sinai Peninsula - always restive and controlled largely by Bedouin tribes - has become increasingly lawless.
The sudden spike in violence threatened to upset the already frayed ties between Israel and Egypt and escalate the conflict between Israel and Hamas in Gaza.
Early warning systems
Israel's south has been equipped with early warning systems and bomb shelters over years of rocket fire from Gaza, and those measures have helped keep casualties low.
The Israeli military's chief spokesman, Brig. Gen. Yoav Mordechai, said it was "too early" to say that a
broad escalation in Gaza was imminent
.
"If we see that Hamas is choosing to escalate, we will not hesitate to expand the scope of our actions, respond in strength and exact a price from Hamas," he told Israel Army Radio on Friday morning.
Egyptian officials said three Egyptian security personnel were killed in Thursday's gunbattles. It was unclear if they were shot by the militants or by Israeli soldiers pursuing them. At least five of the militants were killed, the Israeli military said.
Israel responded hours after the border attack with an airstrike in Gaza that killed five members of the Palestinian group that Israel said was behind it, an organization known as the Popular Resistance Committees. The dead included the group's leader.
A spokesman for the group, Abu Mujahid, would not confirm or deny responsibility for the attack inside Israel, but said militants would avenge the killing of the men in Gaza.
Hamas: Children killed
Hamas, which controls Gaza, denied any connection with the attacks but hurriedly evacuated all of its security facilities Thursday in anticipation of more Israeli retaliation.
Those strikes continued through the night and past midday Friday, targeting what the military said were smuggling tunnels and sites used by gunmen.
Hamas officials said two children, 3 and 13, were killed in the Israeli strikes.
Also Friday, dozens of Palestinians trying to reach the Al-Aqsa Mosque in Jerusalem for Muslim prayers during the Muslim holy month of Ramadan scuffled with police at one of the gates to the Old City.
The police were allowing access only to older Muslims in a measure police said is meant to prevent unrest.
The officers used a water cannon to disperse the crowd and made several arrests, police said. No injuries were reported.
Bedouin smugglers
The violence in the south focused Israel's attention on its border with Egypt - 125 miles of mountainous desert with no fence for most of its length.
Bedouin smugglers ferrying drugs and thousands of African asylum-seekers into Israel have crossed the border almost unimpeded for years.
Thursday's attack - the deadliest for Israel since a Palestinian gunman killed eight people in a Jerusalem religious seminary in 2008 - took place near Israel's popular Red Sea resort city of Eilat, currently at the height of the tourist season.
Though the desert outside Eilat showed signs of an increased military presence on Friday morning, the city itself appeared unaffected. Joggers and cyclists were visible along the beach.
Resident Zion Cohen, 53, said the steady stream of African migrants crossing the border with ease in recent years showed that an incursion like the one on Thursday was only a matter of time.
"What bothers me is the unbearable ease with which they cross the border and the knowledge that ... every day, every minute and every hour something can happen like yesterday," Cohen said.
A new fence is currently under construction, and the military says it will be completed by the end of 2012.
The attack came after a prolonged period without negotiations between Israel and the Western-backed Palestinian leadership in the West Bank.
That deadlock has led the Palestinians to unilaterally seek recognition of statehood at the United Nations next month,
a largely symbolic move opposed by Israel and the United States.
Source: The Associated Press