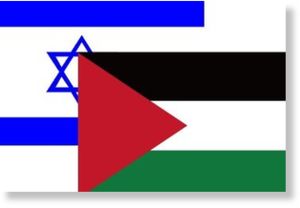 Palestinians say it will trigger the biggest West Bank demonstrations in years. Israelis are bracing for another intifada.
A month before a potentially historic United Nations showdown over Palestinian statehood, the two sides are mobilizing for the possibility of mass street protests that some fear could spiral into a violent uprising.
As Palestinian leaders rally West Bank residents on Facebook and activists prepare campaigns against Jewish settlements and military checkpoints, Israel's Defense Ministry has spent about $22 million on new riot gear and police have canceled September vacations.
"There will be activities everywhere - against the wall (Israel's separation barrier), against the settlements and against the occupation," said Wasel Abu Yousef, who heads the Palestine Liberation Front, a faction of the Palestine Liberation Organization.
Palestinian officials say they are committed to keeping demonstrations nonviolent. But Israelis are preparing for the worst, calling up military reservists and making plans for emergency evacuations of settlements and an increased military presence in Palestinian regions of the West Bank.
Source: The Los Angeles Times