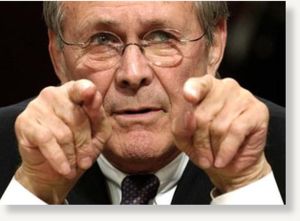 A federal appeals court ruled on Monday that former defence secretary Donald Rumsfeld could be sued for the torture of two US citizens.
The ruling from the 7th US Circuit Court of Appeals follows a similar decision by a federal judge to allow an army veteran who also alleges being tortured in Iraq to sue Mr Rumsfeld for damages.
Donald Vance and Nathan Ertel were working for Iraqi-owned security firm Shield Group Security in 2006
when they tried to alert the FBI to alleged illegal activities by the company.
After this they were detained by the army and claim that they were tortured over several weeks in military camps by sleep deprivation, being exposed to extremes of light and sound and by a process known as "walling," where subjects are blindfolded and slammed into walls on their way to interrogation sessions.
Both men were later released without charge, Mr Vance after three months in custody and Mr Ertel after six weeks.
Judge David Hamilton wrote: "If the plaintiffs' allegations are true, two young American citizens were trying to do the right thing by becoming whistle-blowers to the US government but found themselves detained in prison and tortured by their own government.
"There can be no doubt that the deliberate infliction of such treatment on US citizens, even in a war zone, is unconstitutional."
And the plaintiffs' lawyer Mike Kanovitz said the court had made the "brave and right choice," having faced the decision to "protect the most fundamental rights of citizens in the difficult context of a war or of leaving those rights solely in the hands of politicians and the military."
But Mr Rumsfeld's attorney David Rivkin Jr said: "Having judges second-guess the decisions made by the armed forces halfway around the world is no way to wage a war.
"It saps the effectiveness of the military, puts soldiers at risk and shackles federal officials who have a constitutional duty to protect America."
To successfully sue a senior government official the country's Supreme Court requires that lawyers show that acts in question were tied directly to a violation of constitutional rights and that the official clearly understood that they were violations.