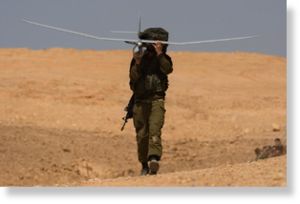 Israeli air force drones are patrolling the skies over the country's gas fields in the Mediterranean Sea due to security concerns, a defense official said Tuesday.
The deployment comes in the wake of new threats from Lebanon's militant Hezbollah group.
Israel and Lebanon have not agreed on a maritime border, and Israel's recent gas discoveries in the Mediterranean have created a new source of friction between the two countries, which have fought repeatedly.
The Israeli official would not specify the nature of the concerns or disclose when the unmanned aircraft began operating or how many were in the air. He spoke on condition of anonymity because he was not authorized to discuss the operation of the drones.
Over the past two years, Israel has discovered two gas fields thought to contain enough gas to keep it energy self-sufficient for decades. Lebanon does not claim these fields but energy companies think there might be gas in nearby waters claimed by both countries.
The Iranian-backed Hezbollah, which dominates Lebanese politics and battled Israel in a monthlong war in 2006, has threatened to use force to protect what it says is Lebanon's natural wealth.
"We warn Israel not to touch this area or try to steal Lebanon's resources," Hezbollah leader Hassan Nasrallah warned last month. "Those who harm our installations will have their own installations harmed," he said.
Israel has said it would use force to defend its gas fields if they are attacked.
In most cases, countries negotiate their maritime border, as Israel did several months ago with Cyprus. Because Israel and Lebanon have no diplomatic relations, both countries have submitted competing boundaries to the United Nations.
Lebanon's proposal would place the border south of Israel's line.