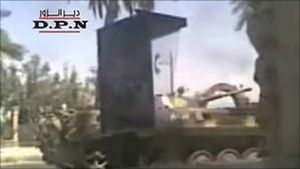 Syria's neighbours are increasing diplomatic pressure on the country as the regime continues a violent crackdown on anti-government protests.
Saudi Arabia, Kuwait and Bahrain have all recalled their ambassadors while Jordan has called for dialogue.
Saudi King Abdullah has called on Syrian President Bashar al-Assad to urgently implement real reforms.
Government tanks have been pounding the eastern city of Deir al-Zour for a second day.
At least 50 people died on Sunday after the army launched a pre-dawn assault.
Activists said that as in recent days, many people had been afraid to leave their homes or take injured people to hospital for fear of being attacked.
Syrian state TV has reported that Mr Assad has appointed a new minister of defence, former army chief of staff Gen Dawoud Rajha. He replaces Gen Ali Habib, said the report.
Sana has also said troops are withdrawing from the city of Hama, which has come under heavy attack in recent days - witnesses say scores of people have died there.
Access to Syria has been severely restricted for international journalists and it is rarely possible to verify accounts by witnesses and activists.
Human rights activists say at least 1,700 civilians have been killed and tens of thousands arrested since the uprising began in mid-March. More than 300 people are believed to have died in the past week alone.
'Depths of chaos'
In a statement late on Sunday, King Abdullah said the events in Syria were "unacceptable", and that Damascus had to choose between "wisdom" or being "pulled down into the depths of chaos and loss".
He called for "an end to the killing machine and bloodshed".
"Syria should think wisely before it is too late and issue and enact reforms that are not merely promises but actual reforms."
The BBC's Jim Muir in Beirut says that by Arab diplomatic standards, it was a highly dramatic intervention by the Saudi monarch, one of the most influential powers in the region.
King Abdullah said he had recalled his ambassador from Damascus for consultation. That move was followed by Kuwait and then Bahrain.
Bahrain's Foreign Minister Sheikh Khaled bin Ahmad al-Khalifa called for "a resort to reason".
In Kuwait, Foreign Minister Sheikh Mohammad al-Sabah said the military action must end and that "no-one can accept the bloodshed".
Mr Sabah said the foreign ministers of Gulf states would meet soon to discuss the situation.
Jordan stopped short of condemning the violence, but Prime Minister Nasser Judeh described the situation as "worrisome, unfortunate and sad".
"We hope that dialogue is restored and reforms are achieved in order to get Syria out of this impasse," he said in a televised statement.
The 22-member Arab League issued its first statement on Syria on Sunday, saying it was "alarmed" and calling for an end to the violence.
On Monday the League's head, Nabil al-Arabi, said he hoped the crisis could be overcome "by peaceful means and by launching a serious dialogue towards the reconciliation that the people have been demanding".
"When people take to the streets and seek change, presidents and governments must reach that solution through dialogue without making use of violence or force," he told reporters.
But he said "drastic measures" should not be expected, and stressed that the League would not take action itself.
Turkish Foreign Minister Ahmet Davutoglu is due in Damascus on Tuesday with what Prime Minister Recep Tayyip Erdogan said would be a tough message for Mr Assad.
Meanwhile the top Sunni Muslim authority, Cairo-based al-Azhar, said the situation in Syria had "gone too far".
"There is no other solution but to put an end to this Arab and Islamic tragedy," said the grand imam of al-Azhar, Sheikh Ahmed al-Tayeb.
The US State Department has said it is "very much encouraged by the strong statements" from the region.
Damascus says it is tackling "armed terrorist gangs" and that its critics have ignored its promises of political reform.
Also on Monday, internet hacking group Anonymous claimed to have taken down the website of Syria's ministry of defence.
The website was later inaccessible but an alleged screengrab circulating on Twitter read: "The world stands with you against the brutal regime."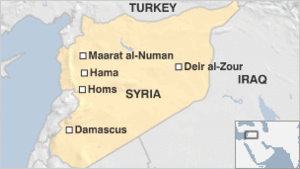 Hospitals closed
The assault on Deir al-Zour, about 450km (280 miles) east of Damascus, continued on Monday, with scores of tanks and armoured personnel carriers moving into several parts of the city.
State media said local leaders had called on the army to "protect the citizens and preserve public and private property".
But Mohammed, a resident, told the Reuters news agency that armoured vehicles were shelling the al-Hawiqa and al-Joura districts hard, and that thousands of residents had fled.
"Private hospitals are closed and people are afraid to send the wounded to state facilities because they are infested with secret police," added the resident.
One activist told the AFP news agency: "The army opened fire with heavy machine-guns on al-Joura. Security forces then launched a search sweep, terrorising residents."
The London-based Syrian Observatory for Human Rights cited residents as saying security forces shot dead a mother and her two children as they tried to escape al-Hawiqa by car.
Troops armed with heavy weapons and backed by tanks also stormed the restive town of Maarat al-Numan, in the northern province of Idlib, at dawn on Monday, the Local Co-ordination Committees said, preventing people from leaving.
In many other parts of the country, protesters staged impromptu overnight rallies against the regime.