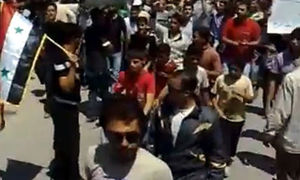 Syrian activists say at least four killed in military raids on town in Homs province and eastern city
Syrian security forces have attacked a central town and parts of an eastern city, killing at least four people in renewed fighting, activists said.
The developments came as President Bashar al-Assad's government struggled to crush a five-month long uprising.
The attacks on the central town of Houleh, in the Homs province, and Deir Ezzor, a city in the east of the country, early on Sunday came a day after Syria's foreign minister attempted to allay protesters demanding reforms by announcing that free parliamentary elections would be held by the end of the year.
However, the gesture is unlikely sooth the tensions in a battle in which the government's crackdown has left more than 1,600 people dead and resulted in international sanctions and condemnation of Assad's regime.
The London-based Syrian Observatory for Human Rights said at least four people were killed when troops stormed Houleh, but the Local Co-ordination Committees (LCC) - an activist group tracking the uprising - said seven had died in a bombing raid on the town.
Homs province and Deir Ezzor have been the scene of intense protests against Assad since the uprising began in mid-March. On Saturday, Syrian forces tightened a siege on the city of Hama, a main centre of the uprising. Damascus describes the protesters as criminals.
An activist in Deir Ezzor told the AP that the military had launched a pre-dawn raid, attacking it from four sides and taking control of eight neighbourhoods.
The LCC confirmed that parts of the city were under the control of the military.
"Human conditions in the city are very bad since it has been under siege for nine days," the activist said. "There is lack of medicine, baby formula, foodstuffs and gasoline. The city is totally paralysed."
He added that many of the injured could not be taken to hospitals and were being treated in homes and mosques.
International condemnation of the crackdown has focused particularly on the bloody siege of Hama, which was launched last Sunday after residents took over the city of 800,000 and barricaded it against regime forces.
Turkey, which borders Syria, said it would send its foreign minister to Damascus on Tuesday to deliver a strong message against the crackdown on the protesters.
The Turkish prime minister, Recep Tayyip Erdogan, said that Turkey could not remain a bystander to the violence.
Gulf Arab countries broke their silence over the bloodshed, calling for an immediate end to the violence and for the implementation of "serious" reforms in Syria.
In a statement posted on its website, the six-nation Gulf Co-operation Council expressed deep concern and regret over "the escalating violence in Syria and use of excess force".
In a phone conversation, the UN secretary general, Ban Ki-moon, urged Assad to immediately stop the use of military force against civilians.
Source: Associated Press