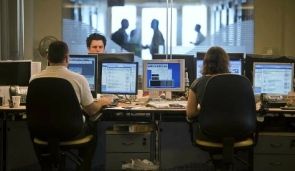 Tel Aviv stocks plunged across the board on Sunday, losing more than 7% in reaction to America's loss of its perfect credit rating late last week and a sharp selloff in world markets Thursday. The Sunday retreat was the steepest intraday fall since the global economic crisis erupted in 2008.
An opening loss exceeding 5% triggered circuit-breakers, causing a series of brief suspensions in trading. But stocks started off almost six percent in the red and by the close, blue chips had lost more than 7%.
Not a single large-cap stock escaped the rout, which had household investors pulling a billion shekels out of mutual funds on Sunday. Sunday's session was marked by sharp drops in stocks associated with Nochi Dankner's IDB group of holding companies and a pullback in oil and gas exploration stocks and biomed shares.
The losses followed Standard & Poor's creating history on Friday by downgrading the previously stainless U.S. credit rating, meaning the credit rating agency feels the U.S. government is slightly less likely to return debt. Investors will over time demand higher interest on U.S. government bonds to compensate them for the heightened risk. That can spill over onto borrowing costs throughout the economy. The more people and businesses pay for borrowing, the less they have to spend.
Standard & Poor's cited "difficulties in bridging the gulf between political parties" as a major reason for the downgrade to AA +, a level down from AAA.
Some analysts shrugged, counseling investors to breathe deep and prepare for a wild ride, if they have horizon. (People who need their money fast shouldn't be in stocks anyway, traders urge.) After a time of reaction, market fundamentals should come to the fore, not to mention the U.S. rating remains extremely strong and that countries can be upgraded as well as downgraded. Other analysts compared the downgrade to a swift kick that could propel American policy in the right direction.
Rival rating agency Moody's meanwhile confirmed its blue-chip rating for America. Fitch says it's reviewing its position and should issue a report by month-end.
International woes aren't the only reason for Sunday's drop, though. On Saturday night some
300,000 people marched
, protesting the decline in living standards and demanding "social justice". Analysts are divided on how the upheavals will affect stocks, and to what degree.
English breakfast in Tel Aviv, paid with 'stupid money'
Over in Tel Aviv, trading on Sunday began briefly but suspensions began almost at once, as the exchange reverted to what has been dubbed an "English opening." This measure aims to curb massive swings in the indices, primarily by extending the pre-opening trading phase in order to allow investors more time, in an effort to stabilize the market.
And from opening, share prices began their dive. The standard deviation at which options trade jumped from 20% a week ago to more than 30%.
The benchmark TA-25 index lost 7% to 1,074 points. The broader TA-100 index fell 7.2% to 973 points. None escaped the wrath: the Tel-Div index, of large companies that distribute dividends to shareholders, fell 7%. The index tracking oil and gas companies lost 9.5%. Total turnover was heavy, especially for the sluggish summer season, at almost NIS 2.7 billion.
Note ye however that where there are sellers, there are buyers, especially at a dip like that. Thus spake Moran Zur, CEO of Meitav Trade Securities. "At times like that institutional investors look for opportunity, especially among corporate bonds," he said. "A drop of 2% to 3% in the Tel-Bond index definitely poses opportunity." Sunday's slump was due to "stupid money" heading for the exit, he said. Mainly, households were yanking their money from mutual funds - "they're throwing away the goods because of fear, not necessarily thinking what they're doing," he described it. Zur thinks at this time investors are better off avoiding highly leveraged companies - laden with debt, and to focus on companies with stable cash flows.
IDB drops hard
Shares of Koor Industries fell 6%, in keeping with the market trend, after its board approved a half-billion shekel bridge loan from the parent IDB group, to be repaid when Koor gets the agreed-on loan from ChemChina in late March 2012.
Discount Investment Corporation, another company in the Nochi Dankner's IDB group, fell 17.5% on turnover of NIS 17 million. Shares of IDB Holding, the company at the top of the business group, lost 9.9%.
Bank stocks were hit hard: Leumi lost 8.4% on turnover of NIS 143 million and Hapoalim fell 9.3% on turnover of NIS 181 million. Discount Bank was not spared, losing 10% and Mizrahi-Tefahot lost 7%.
Teva Pharmaceutical Industries stock fell 4.7% to 139.60 per share, representing a share price of less than $40 - to be precise, according to the Friday official exchange rates, $39.66.