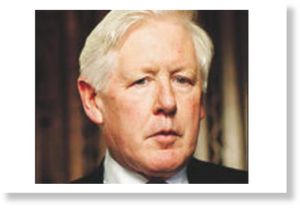 A 50-year-old woman is in custody after allegedly delivering an envelope filled with mysterious white powder to the Cabbagetown office shared by Ontario MPP Glen Murray and interim federal Liberal leader Bob Rae.
The powder, which arrived at the building at about 2 p.m., caused itching, sneezing and coughing amongst building employees. "It was a non-toxic but noxious substance, people in the office had respiratory symptoms and redness but it was nothing poisonous," said a spokesperson for Mr. Murray.
The building was briefly evacuated and the immediate area was blocked off by police. While emergency crews clad in HazMat suits removed the package, affected employees were treated onsite. Officials soon reported that the powder was "innocuous."
The woman, whose motivation is not known, was apprehended soon after.
"Earlier today, a suspicious package was delivered to my constituency office in Toronto," Mr. Murray wrote in a statement released Tuesday afternoon. "The situation was resolved without incident or harm to any member of my staff."
"Public service entails risk, which is borne not only by elected officials, but also by our staff," the statement said.
Neither Mr. Rae or Mr. Murray were in the office at the time of the incident.
Mr. Murray, who is openly gay, has received threats to his safety in the past. In 2000, while mayor of Winnipeg, he began wearing a bulletproof vest to public events on the suggestion of police.
Mr. Murray had been receiving death threats regularly since deciding to run for mayor in 1998.