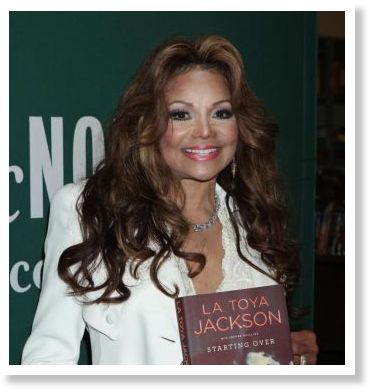 La Toya Jackson claims her abusive ex-husband once offered her up to have sex with boxing champion Mike Tyson for $100,000.
Michael Jackson's sister made the bizarre allegation during an appearance on CBS's
The Talk
where she was promoting her new autobiography
Starting Over.
It tells of the abuse she allegedly suffered at the hands of her ex-husband and manager Jack Gordon, who she says also 'hated and despised' her legendary entertainer brother.
La Toya, 55, accused Gordon of beating and threatening to kill her during their tumultuous marriage.
Audiences on the daytime talk show gasped when the former model claimed Gordon, who died in 2005, once attempted to charge Mike Tyson a hefty sum to sleep with her.
She also alleged he forced her to take part in group sex against her will and to pose for twice
Playboy
magazine.
'Mike Tyson later told my mother and father and some other friends that he (Gordon) had told him that if he wanted to sleep with me he has to pay $100,000,' she told the show's panel.
'I was in brothels and everything. He put me... (it was) everything I was against. He made me do
Playboy
twice and had me sit on the stage and say 'Oh no, it was all my idea'.
'And I had to do that because I knew what he said he would do, he would do it.'
La Toya added, 'I wrote this book for women. It was very difficult for me, because when he (Gordon) took me, at that time I was a strict Jehovah's Witness and I knew nothing about the world whatsoever.'