Iranian president under increasing pressure from MPs after supporting foreign minister's controversial appointment of deputy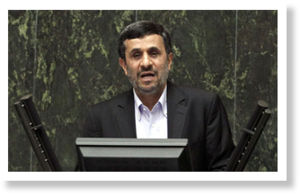 Ministers in Iran moved a step closer towards impeaching the president, Mahmoud Ahmadinejad, after a series of clashes with supporters of the supreme leader, Ayatollah Ali Khamenei.
Impeachment proceedings were launched against foreign minister Ali Akbar Salehi for appointing a man close to Ahmadinejad's chief-of-staff, Esfandiar Rahim Mashaei, as his deputy.
Supporters of Khamenei, including the overwhelming majority of parliament, say Ahmadinejad is under the spell of Mashaei, who is accused of attempting to undermine clerical power and increase his own political influence.
A power struggle between Ahmadinejad and the establishment, especially the clerics, has come to light after the controversies surrounding Mashaei became public. Muhammad Sharif Malekzadeh, the deputy foreign minister in the middle of the row, was appointed last week but has already resigned. Despite that, Iranian MPs went ahead with their motion to impeach Salehi, signed by 33 deputies, which was officially read out in the parliament.
"The motion to impeach [Salehi] has not been halted ... It is up to the members of the parliament to withdraw their impeachment request," the parliamentary speaker, Ali Larijani, was quoted as saying by Iranian news agencies.
In a further setback for the president, who had gone to the parliament for the first time after weeks of exchanging verbal attacks with various lawmakers, especially Larijani, Ahmadinejad's nominee for the new post of minister of sport and youth was rejected.
Meanwhile, several MPs warned Ahmadinejad of his own possible impeachment if he insisted on supporting Mashaei and his allies, who are described as a "deviant current" within the inner circle of the president ,and are accused of everything from corruption to sorcery.
Speaking to the Khabaronline conservative news website, Ali Motahari, an influential MP, said the motion to impeach Ahmadinejad would be delivered within 10 days. "In a meeting with the parliamentary clerics, we decided to launch the motion [to impeach the president] in less than 10 days and avoid any delays," Motahari was quoted as saying.
Another lawmaker, Fazel Mousavi, said last week that Ahmadinejad "is only one yellow card away from impeachment" after the president reshuffled his cabinet and took over the oil ministry temporarily.
At the same time, Mojtaba Zolnour, the supreme leader's deputy representative in the powerful revolutionary guards said a majority of Iranian MPs would have been ready to impeach Ahmadinejad over his walkout from the presidential office earlier this year, had he not ended it voluntarily.
In April, Ahmadinejad abandoned his office for 11 days in protest at Khamenei's intervention in a cabinet appointment. According to Zolnour, Ahmadinejad returned to work only because he was threatened with impeachment.
"If the motion to impeach Ahmadinejad had been begun in the parliament [during his walkout], an overwhelming majority would have voted against him," Zolnour was quoted by Iran's semi-official Mehr news agency as saying.
Analysts believe Khamenei is avoiding direct confrontation with Ahmadinejad by pursuing his intentions through the parliament. Iran's Guardian Council, a body under Khamenei's control, vets all candidates, including all MPs, before any election.