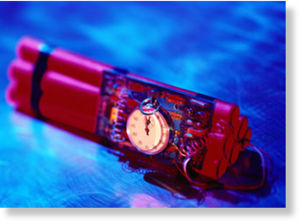 A 19-year-old Evanston man is accused of planting a bomb at an Evanston police station - and then calling in a tip about the device to the police and asking for a reward.
Sergio Chaves left the bomb in a garbage can outside the station at 633 Howard, next to an apartment building, officials said Monday.
The Cook County sheriff's bomb squad rendered the device safe Saturday night.
Chaves faces federal charges of attempted bombing of public safety officials, said Tom Ahern, spokesman for the U.S. Bureau of Alcohol, Tobacco, Firearms and Explosives.
"It put a lot of people at risk, including the three officers in the police station at the time," Ahern said.
"We believe he was acting alone," Ahern said.
Law-enforcement sources said the improvised device contained explosives from fireworks, as well as nails and glass and was fuse-activated.
Chaves allegedly called in a tip to the Evanston Police Department about the location of the bomb. He identified himself in the call.
Early Sunday, he approached police to claim a reward of a few thousand dollars, sources said. Chaves told police a drug dealer had intended to bomb the station, but his story "didn't add up," a source said.
Chaves - who has no felony convictions, according to Ahern - is scheduled to appear in U.S. District Court Monday afternoon.
Source: Chicago Sun Times