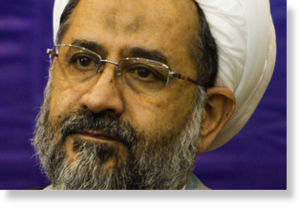 Diplomat to be deported within 48 hours following brief detention on allegations of espionage and setting up spy rings.
Egypt is expelling an Iranian diplomat who was briefly detained and questioned on charges of illegally gathering intelligence for Tehran, security officials said.
Qassem al Husseini, the diplomat, was arrested on Saturday in his Cairo home, after the Egyptian intelligence tracked his movements, Al Jazeera's Ayman Mohyeldin reported.
Husseini was charged with attempting to set up spy rings in Egypt and other Arab countries.
He was released after a two-hour detention, Haydar Moslehi, Iran's intelligence minister, said on Sunday, according to Iranian state television's website. Moslehi also said that Egyptian authorities apologised for the incident - though he did not elaborate.
The diplomat, who was working for Iran's Interest Section in the Egyptian capital, was accused of being an agent for Tehran's intelligence services, gathering information and spying on Egypt since the end of its January 25 revolution, our correspondent, reporting from Cairo, said.
He was also accused of attempting to gather information on Gulf Arab countries by recruiting agents and informants in Egypt, Mohyeldin said.
Egyptian security officers found documents, a computer and spying devices banned in Egypt at Husseini's apartment, a security official told the Associated Press news agency on Sunday.
The diplomat will be deported within 48 hours, the official added, speaking on condition of anonymity as he was not authorised to share details.
Strained relations
After his arrest on Saturday, Husseini was transferred to the Egyptian State Security's General Prosecutor's Office for further questioning.
Taher al-Khouli, a state security attorney, said an initial investigation showed Husseini was "spying for a foreign country to harm the interests of Egypt'', the country's official MENA news agency said.
The report said he had been caught violating diplomatic protocols by "forming spy rings to collect political, economic and military information about Egypt and Gulf countries in exchange for money''.
Cairo and Tehran do not enjoy full diplomatic relations, and ties have been strained since Iran's 1979 Islamic Revolution and Egypt's signing of a peace treaty with Israel that year.
Relations were completely severed after the 1981 assassination of Egyptian president Anwar Sadat, though in recent months, reports circulated that Egypt was about to restore full diplomatic relations with Iran.
The Egyptian foreign ministry has repeatedly denied such rumours, saying that it would review the situation but that it was not planning on restoring full diplomatic relations with Iran anytime soon.