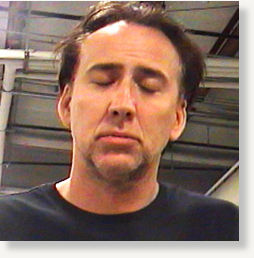 A police report from Nicolas Cage's arrest earlier this month suggests the actor might have physically harmed his son before he was taken into custody.
Cage, who was arrested in New Orleans on April 16 following an alleged physical altercation with his wife, Alice Kim, "fell while holding" their 5-year-old son Ka-El, Sgt. Stuart Smith wrote in his report, obtained by RadarOnline.com.
"The fall caused the five (5) year old child to suffer a minor abrasion to his left knee, and she [Kim] then recovered the child," the officer said.
A male witness, however, told police that he "observed Mr. Cage pull the male child to the ground by his hand."
"Based upon this information and Mrs. Cage's earlier statement, a child-abuse detective was notified," the report said, later noting that the detective "determined that no further investigation was merited, but if needed, a representative of the Child Protective Service may be contacted and an investigation launched."
While Ka-El's injury was photographed by the police, Kim refused to let the child be interviewed and also declined to "provide a handwritten statement concerning the incident."
The report also noted that Cage, 47, was ultimately placed under arrest due to his "manic state, level of intoxication, victim and witness statements" and the fear that "another incident may have occurred" if he wasn't taken into custody.
The actor was eventually released from jail after reality TV bounty hunter Duane (Dog) Chapman posted a $11,000 bond.
A rep for Cage has not yet responded to a request for comment.