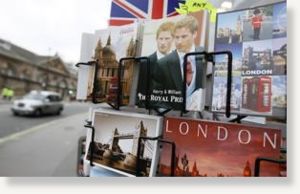 Let's hope Friday's big blowout is a right royal good time. Because thanks in part to a quirk in the calendar, it's set to take a pretty heavy toll on Britain's economy -- which isn't in great health already.
Prime Minister David Cameron has announced that Friday will be a national holiday -- or Bank Holiday, as it's known here -- so that everyone can enjoy the day.
But
according to
the consulting firm Investec, a day without work could knock as much as a quarter of a percent off growth for the quarter, translating to a loss to the economy of as much as
$50 billion
. "You will basically lose a day of output, and largely speaking that will be that," Philip Shaw, an Investec economist, has said.
A business lobbying group has
put the loss figure
at around $10 billion. But either way, it's likely to far outstrip the positive impact on the economy from the influx of tourists and sales of wedding memorabilia, estimated at around $1.5-2 billion.
The additional holiday also means that this week will contain just three work days, because Easter Monday was a holiday, too. Britain also had last Friday off (Easter Friday) and will be idle next Monday because of the annual May Day holiday, observed on the first Monday of every May. Because of all the holidays, Britons can get an 11-day stretch away from work while using only three vacation days -- and many are doing just that. As a result, the accounting firm RSM Tenon has said Britain will effectively close for business for the last two weeks of the month.
The hit to the economy could hardly come at a worse time. Britain's gross domestic product
rose just 0.5 percent
in the first three months of the year, after falling by the same amount at the end of last - year, triggering concerns that the country's recovery from the recent recession has stalled.
And all this leaves aside the cost to taxpayers stemming from the big day. The royal family -- which already gets a government grant of $13 million a year -- is picking up the tab for the wedding itself, with a bit of help from the Middletons. But the government will pay for things like cleanup and security -- including sophisticated surveillance -- amid concerns that the event could be a tempting target for Irish or Islamic terrorists. And because police will be working on a holiday,
they'll get overtime rates
.
All in all, taxpayers could be on the hook for around $35 million or more at a time when a severe budget deficit has led Cameron's government to make far-reaching
cuts to services.
Still, given the extra day off work, many Britons don't seem to mind. "I'm certainly not complaining," Shaw of Investec told a reporter.