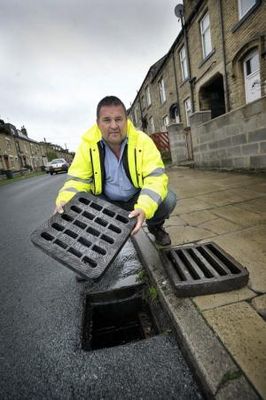 Metal thefts across the Bradford district have reached "epidemic" proportions, it was claimed today. As the price of metal continues to rise sharply, thieves are ripping lead from church roofs, gully lids from roads, metal barriers from parks and even railings from children's play areas.
Figures obtained by the
Telegraph & Argus
reveal that metal thefts from churches in the Bradford Diocese have cost at least £300,000 during the last four years.
Bosses at Ecclesiastical Insurance described the situation in Bradford Diocese as an "epidemic" and said they believed the cost to church leaders probably runs to hundreds of thousands of pounds as the insurance payouts only cover the loss of metal - not the cost of replacing it.
The insurers' claims come as Bradford Council admitted spending more than £100,000 during the past year to replace metal items including gates, barriers and drain covers stolen around the district.
And next month Network Rail is set to release figures detailing the theft of metal cabling from railway lines up and down the country, with Yorkshire expected to be a criminal hotspot.
In one of the latest incidents, thieves tried to steal signalling cable on two occasions from the same line, causing chaos for commuters by cutting cable near New Pudsey station and also near Armley.
From 2002 levels, the price of lead scrap has risen 400 per cent, heavy brass is up 500 per cent and stainless steel now sells at 550 per cent higher than nine years ago.
Meanwhile, heavy copper has risen more than 600 per cent and insulated copper cable is up 700 per cent on 2002 figures.
In Cowling, between Keighley and Skipton, lead thieves have targeted Holy Trinity Church on four occasions since the beginning of the year. Now they have turned their attention to the nearby primary school, stripping lead from the roof at some stage over the last two weeks.
One church where people are trying to take preventative measures is the Saltaire United Reformed Church.
The church, in Victoria Road, is one of seven grade I and II-listed places of worship across West Yorkshire and holds the body of famous benefactor Sir Titus Salt in its mausoleum.
Trustees of the church have applied for listed building consent from Bradford Council to install some night-time lighting for extra security and safety in the churchyard and portico.
CCTV cameras, retractable bollards, remotely monitored roof alarms and locked gates have all been put in place since a "spate of repeated lead thefts at the church and the neighbouring Shipley College building".
Len Morris, one of the church's trustees said the measures were all necessary evils to prevent more thefts, but often costs more than the metal itself.
"I think that it's very difficult and the police have been very helpful," he said.
"Now, when we leave a church of an evening, the gates are closed and they're locked, two pillars are drawn up out of the floor and they're locked, to prevent a lorry or a vehicle coming in.
"It's one of the deterrents.
"There are CCTV cameras, there are laser beams going around the roof to detect people walking.
"All these things cost money and it's not actually putting any lead on the roof."
The battle against metal thefts is ongoing, and Katri Link, from Ecclesiastical Insurance says the issue of thieves targeting churches is one of the biggest facing the firm.
"First and foremost it's an issue we've seen an increase in certainly over the last four or five years," she said.
"In 2006 it was still relatively quiet but in 2007 it all kicked off as prices started increasing. The beginning of 2011 is already showing signs of being a bad year for metal thefts.
"For Ecclesiastical, over the last five years, the epidemic, because it is already an epidemic for us, has cost us £22m across the country. It's a large sum.
"But that's just the cost to the insurer, the costs are probably much higher, because churches pick up some of the cost themselves as well. It gives an idea of the scale of the problem."
Figures show in the Bradford Diocese, more than 120 claims for metal thefts have been made by churches from January 2007 to the end of last month.
The claims have cost £300,000, meaning on average about £1,500 is claimed from the company by churches every week, or £6,000 every month.
"It is quite a lot," Miss Link said.
"For churches that sometimes depend quite a lot on donations as well in terms of their repairs it is a big ask. Sometimes people say the theft of metal is a victimless crime - it really isn't.
"The communities that use these churches for their events or any other community activity really suffer because they have to face the cost. They have to face the repairs.
"It really does damage the communities."
Bradford Council produced its figure for metal thefts after a formal question at a meeting.
"Over a 12-month period, 416 gully lids have been stolen at a cost of £48,000," the answer said.
"In addition, over 454 metres of guard-rail has been replaced in 12 months at a cost of £45,500.
"Additionally, losses in parks amount to ten manhole covers, three gates, two barriers, 24 metres of play area railings with a value of £7,000."
In neighbouring Kirklees, the theft of steel litter bins has emerged as a problem in the last year, with six sturdy bins going missing in Birkenshaw, five being stolen in Liversedge, four in Mirfield, two in Birstall and one in Heckmondwike in just a month.
As police try to catch the criminals, Miss Link said the profile of a metal thief is very difficult to pinpoint.
"There are very different groups who operate in this area as well," she said.
"There are organised groups and there are individuals so it's very difficult to profile your average metal thief because they are so different."
Instead, the company is promoting prevention and encouraging the use of Smartwater, an indelible paint only visible under ultraviolet light, which contains a chemical code unique to the item being protected.
"We certainly provide advice for our churches," Miss Link said.
"Ecclesiastical has regional consultants and surveyors who go and see churches on a regular basis. During their visits they provide individual advice.
"Some of the things we advise to use is Smartwater. It is a really key part of our strategy in the fight against the theft of metals.
"In 2007, we sent free kits of Smartwater and signs to all our Anglican Churches across the UK, so that's about 16,000 churches who've received the kit to mark their lead.
"That's one of the things churches can do.
"There are some steps they can take in terms of putting up some security lighting, cameras they can install, any other security alarms that can be fitted and roof alarms are another thing we have been trialling and promoting to churches during the past year."