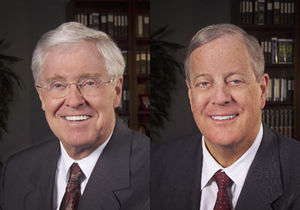 Koch Industries has launched a website and is buying advertisements on Google and Facebook to counter news stories critical of the politically-active company.
Charles and David Koch, owners of Koch Industries, were principle financiers of Wisconsin's Republican Governor Scott Walker and the tea party movement. They are also supporters of groups like Americans for Prosperity, the Cato Institute, the Competitive Enterprise Institute, and the Reason Foundation.
In response to a
story by the Center for Public Integrity
that outlined Koch's multimillion-dollar lobbying network in Washington, Koch Industries has started an ad campaign targeting the nonprofit organization.
The Center for Public Integrity has a screen shot of the Google ad, which says "Slanted Reporting on Koch: Bias, hidden agenda at the Center for Public Integrity" after a search for the words "Center for Public Integrity" and "Koch." A similar ad is also apparently on Facebook.
The ad links to the company's website, kochfacts.com, which contains a number of responses to "media inaccuracies" along with other statements from Koch Industries.
The Center for Public Integrity said the company refused to respond to a reporter's questions when the story was published last week, but Koch retorted that their concerns about the objectivity and fairness of the reporter were "met with indignation."
"The story is based on Koch's own reports, hardly controversial material that would warrant the ad hominem attack on a reporter who was objectively doing his job," Center for Public Integrity Executive Director Bill Buzenberg said in response to the ad campaign. "Rather than answer our repeated efforts to get their side of the story or to address issues that are irrefutably factual, it seems as though Koch simply wants to use advertising to bully and chill a free press."
Mike Hoyt, executive editor at the
Columbia Journalism Review
, told the Center for Public Integrity that this was the first time he had seen political attacks on journalists from online ads.
"Public relations has grown so tremendously while journalism has, due to the recession and the digital shakeup of the business model, shrunk," Hoyt said. "Combine that with the ability of powerful entities to buy their own gateways to the public, and you have a civic conversation that can be skewed. A main job of the press is to examine the powerful, and that becomes harder given the PR muscle of the powerful."