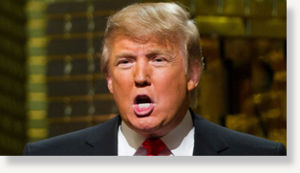 Donald Trump now sees himself as something of a patron saint for the birthers - and he's even released his own birth certificate as he steps up
criticism of the president
.
Seeking to
pump more energy into the birther movement
and quirky chase for the White House, Trump on Monday
provided a copy of his birth certificate
to the conservative website Newsmax - which has played a leading role in trumpeting birther mythology.
And in an interview on Fox News, Trump cast himself as something akin to the rebel leader of the birther movement.
"Now, this guy either has a birth certificate or he doesn't," Trump said. "And I didn't think this was such a big deal, but I will tell you, it's turning out to be a very big deal because people now are calling me from all over saying, please don't give up on this issue."
Trump's insistence that he's being encouraged to continue on his birther crusade has led to what he says is the startling revelation that, "all of a sudden, a lot of facts are emerging and I'm starting to wonder myself whether or not [Obama] was born in this country."
Trump also called for Hawaii Democratic Gov. Neil Abercrombie to be investigated for stating that he - as a friend of the president's parents -
remembers Obama's birth
.
"I think this guy should be investigated," Trump said. "I doubt it. He remembers when Obama was born? Give me a break! He's just trying to do something for his party."