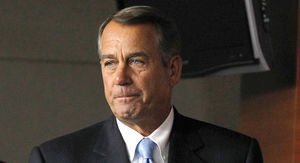 House Speaker John Boehner said on Sunday that President Barack Obama must "better explain what America's role" is in the Libya offensive before further military action is taken.
It was the speaker's first public remarks since the U.S. and allies launched an air and sea attack on Col. Moammar Qadhafi on Saturday.
"The president is the commander-in-chief, but the administration has a responsibility to define for the American people, the Congress, and our troops what the mission in Libya is, better explain what America's role is in achieving that mission, and make clear how it will be accomplished," the Ohio Republican said in a statement. "Before any further military commitments are made, the administration must do a better job of communicating to the American people and to Congress about our mission in Libya and how it will be achieved."
Though he was largely critical of Obama, Boehner also said the United States has a "moral obligation to stand with those who seek freedom from oppression and self-government for their people."
Boehner was phoned into a meeting with administration officials Friday, an aide said, but Boehner did not speak, nor did the White House ask anything of him. On Saturday, Deputy National Security Adviser Denis McDonough called Boehner and other congressional leaders about the situation in Libya, just before Obama announced that missile strikes had begun.
The White House did, however, respond to Boehner's comments Sunday: "The president answered all those questions already. ... The very thing he's saying we need to do," the president has considered.