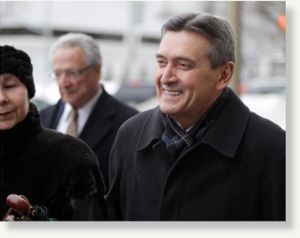 Senator Raymond Lavigne, who was this month found guilty of fraud and breach of trust, has resigned.
The resignation came Monday as the senate was poised, for the first time in its history, to decide whether to strip a senator of his office.
Lavigne was found guilty March 11 in Ontario Superior Court of defrauding the federal government of $10,120.50 in false travel claims and of breach of trust for abusing his office.
Lavigne's sentence hearing takes place May 10. He faces up to 14 years in prison.
Lavigne, 65, has come under fire for spending $315,355 in travel expenses, on top of his $132,300 salary, despite being barred from doing any work in the Senate or its committees.
His colleagues put him on a forced leave of absence after the RCMP charged him in 2007.
After Lavigne's conviction, a Senate committee cut his travel and office budget.
Lavigne's resignation, which is immediate, will likely ensure the 65-year-old receives a generous pension.
If senators had successfully kicked him out, Lavigne would have received nothing.