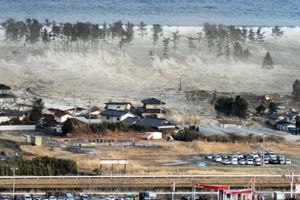 A powerful earthquake measuring 6.3 on the Richter scale has struck the coast of Honshu in eastern Japan.
The quake struck at 8:24 a.m. local time on Sunday (2324 GMT on Saturday), according to the US Geological Survey.
The epicenter was monitored at 37.9813 degrees north latitude and 141.8492 degrees east longitude, with a depth of 24.8 kilometers (14 miles), the Xinhua news agency reported.
The quake was followed by a 6.6-magnitude aftershock two minutes later.
Japan is still conducting rescue operations in the aftermath of Friday's 8.9-magnitude earthquake, which triggered a 23-foot (7-meter) tsunami and over 50 aftershocks, with many measuring more than 6.0 on the Richter scale.
There are concerns that the death toll from the catastrophic earthquake could exceed 1,800.
The strong tremor has left millions of people in the quake-stricken area without water, gas, and electricity.
The quake struck at 2:46 p.m. local time (0546 GMT) on Friday and its epicenter was monitored at about 373 kilometers (231 miles) from the capital Tokyo, with a depth of 32 kilometers (20 miles).
The temblor triggered a seven-meter (23-foot) tsunami and was followed by over 50 aftershocks over the next few hours, with many measuring more than 6.0 on the Richter scale.
On Friday, Japanese Prime Minister Naoto Kan pledged that the government would do all it can to rescue the survivors of the disaster.
The Japanese islands are located in an area that is the convergence point for several continental and oceanic plates. Because of Japan's location on an active plate zone, the country has had a long history of serious quakes.
The worst earthquake to hit Japan was the 8.3-magnitude Great Kanto Earthquake of 1923, which killed 100,000 people.
In 1995, the city of Kobe was hit by a powerful earthquake that killed 6,000 and injured nearly half a million residents.