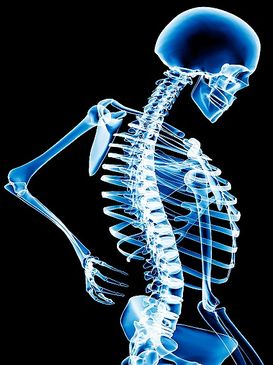 A dramatic increase in brittle-bone diseases is forecast to hit a generation of British women at massive cost to the National Health Service. Clinicians report increasing numbers of younger women suffering low bone density, exposing them to higher risk of developing the porous bone disease osteoporosis in later life.
The shift comes as the number of people with the condition is already increasingly rapidly, due to the UK's ageing population.
Lifestyle issues such as dieting, lack of exercise, excessive drinking, smoking, contraceptive injections and high-factor sun block are being considered as contributing to a significant increase in the risk of contracting osteoporosis.
Experts fear all these factors could create a surge of fragile-bone disease when this generation of young women hits the menopause. Fractures are already at "epidemic proportions". Osteoporosis affects both sexes but is much more common in post-menopausal women, as it is often brought on by a lowering of oestrogen levels.
Hip fractures - frequently a symptom of brittle-bone disease - have increased by 17% in a decade in England, and there are about 230,000 fragility fractures in the UK every year. At present the cost of osteoporotic hip fractures to the NHS is an estimated £2bn a year. That is expected to rise to £3bn by 2020.
The disease, which is often only discovered after a serious fracture in older age, can be fatal. Almost one in 10 women over the age of 55 who are admitted with a hip fracture do not make it out of hospital alive.
To raise the profile of the disease, the Duchess of Cornwall will appear this week on the radio drama The Archers, in her role as president of the National Osteoporosis Society. In the episode, aired on BBC Radio 4 on Thursday, she attends a tea party for the Borsetshire Osteoporosis Society.
Nicola Peel, a consultant at the Metabolic Bone Centre at Sheffield Teaching Hospital, said: "We are seeing an increasing number of referrals for young women (with) low bone density and many more who have the risk factors.
They're likely to reach the menopause at sub-optimal bone health, which will put them at risk of fractures. Binge drinking is harmful to the skeleton, smoking is a risk factor, as is a sedentary lifestyle, and we believe reduced levels of activity in childhood will have an effect on bone growth."
Bone density reaches a peak in the mid-20s, making a healthy lifestyle from childhood to the age of 25 crucial to bone development. Later in life, good nutrition and exercise help to maintain bones. Exposing the skin to sunlight is important, too, as without this the body cannot manufacture vitamin D, which - along with calcium - is crucial to bone formation.
Jonathan Tobias, professor of rheumatology at Bristol University, has just completed a study into the bone density of 15-year-olds. He found that
those who did regular vigorous exercise had significantly stronger bones
, and is worried that the sedentary lifestyles of younger people will put their bones in danger.
"There's a potential constellation of risk factors for young women - including lack of exercise, excess dieting and progesterone-only contraceptive injections - which could mean their risk of osteoporosis in later life is even greater than that of the elderly of today. There is potentially a time bomb in terms of the incidence of fractures due to osteoporosis, which is already of epidemic proportions."