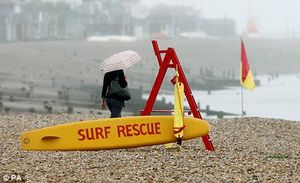 The month that brought us a hosepipe ban, melting tarmac, health warnings about too much sun and a lot of very sunburnt bodies was also the wettest on record.
Despite a heatwave and the hottest temperature in decades, England suffered the wettest July ever recorded - and there is more to come forecasters have recorded.
According to provisional statistics from the Met Office, the UK was 46 per cent wetter than average and parts of the country also faced devastating floods.
Yet at the same time, the south east of the country was basking in temperatures well into the twenties as thousands of southerners took to parks, beaches and gardens to enjoy the heatwave.
But Scotland, Wales and Northern Ireland had 50 per cent more rain than usual in July.
The wettest place was Capel Curig in Wales where 340mm of rain fell in just one month.
But in the south of the country it was a completely different story.
Overall the south east had just 27mm of rain - only 40 per cent of the average expected for the month - and some places saw only 5mm, less than 20 per cent of the normal average.
It followed June conditions which were the driest since 1995 and led to low rivers and reservoirs, parched soils and increased water demand as well as a ban on hosepipes in some places that continued into July.
But weather forecasters say the dry spell in the south east is about to end.
Met Office spokesman Mark Seltzer said: 'From January to June this year it has been exceptionally dry, but July finally saw some rain coming through.
'It has been wettest in the north west. Scotland had 164mm of rain, Wales 143mm and Northern Ireland 116mm, which is 50 per cent more than the average for this time of the year.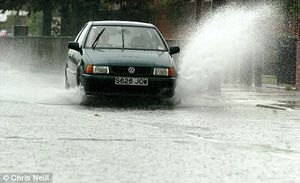 'England has been about average with three per cent more, although there has been flooding in some parts, for example Merseyside, this month.
'But in some parts of the south east only 5mm of rain have fell, which is less than 20 per cent of what we would usually expect for this time of year, as the average is around 45mm.'
However, he warned the south east is in for more unsettled weather as we head into August.
He said: 'For Monday most of the country should be fairly dry with bright and sunny spells but there is a good chance of showers in the south-east and East Anglia, and we could see one or two heavy ones.
'The south will be the warmest and temperatures around Heathrow could get up to 24 degrees but it will be low twenties and high teens elsewhere.
'On Tuesday most of the east and south-east should be dry with more cloud in the west, but a band of rain is again starting to come in by the end of the day for most parts of England and Wales.
'The weather front looks like it will start to clear a bit by Wednesday. It will become drier and brighter for most parts of the country, but again showers will follow behind later.
'It will also feel quite breezy in north-western parts of the UK and temperatures will be cooler than average.
'Thursday again we'll see a mix of sunshine and showers, with some heavy downpours in Scotland and the north of England, but Friday looks like it might be alright.'