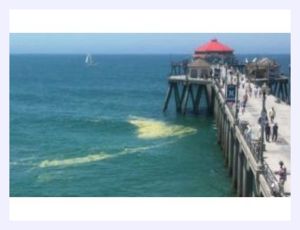 If you've been to the beach the past few days, you might have noticed weird, neon green slimy stuff floating around in the water next to you.
At 36th Street in Newport Beach Monday morning breaking waves would cause the green stuff to light up the whitewash, creating a strange color.
The neon stuff - which some are saying is algae -- floated around near shore along the coast the past few days. The green stuff was forming bubbles on the water's surface. When a wave broke around a surfer riding the wave, the wave would turn green around him - not a pretty "I'm in the Caribbean" green, but an "I hope I don't wake up with a third eye" kind of green.
The Orange County Health Care Agency has been unable to identify the substance, but so far has found no evidence of bacterial contamination, and no illnesses have been reported, said program manager Larry Honeybourne."
US Open champ Brett Simpson Monday morning said he's been surfing in it, but has no idea what it is.
"It's kind of freaking me out," he said.
Surf photographer John Salanoa - who snaps photos for OrangeCounty.com along the coast - said it's been stretching from Seal Beach to Lowers.
An article by
The Long Beach Press Telegram
reported that health officials said it was a bright green algal bloom that appears each year, and surfers and swimmers should attempt to avoid direct contact with the "floating film."
An expert in the story said the bloom is the result of increased temperatures. But this morning, the water was still chilly enough to need a full suit to surf.
Long-time lifeguards and surfers say they have never seen algae like this in the past. Simpson, who has surfed the pier his whole life, said he's never seen the stuff before. Same with Huntington Beach lifeguard Lt. Mike Beuerlein.
"There's no reason to believe it's harmful," he said.