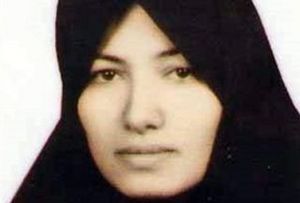 Iran's Embassy in London has denied claims by media and human rights groups that the country's judiciary has sentenced a woman to death by stoning.
The embassy said in a statement that Iran's judicial officials have rejected reports that Sakineh Mohammadi Ashtiani will be stoned to death.
"According to information from relevant judicial authorities in Iran, she will not be executed by stoning punishment," the embassy said in the statement carried by
The Guardian
.
The statement also says such a punishment has not been included in the draft Islamic Penal Code being deliberated in the Iranian Parliament.
"It is notable that this kind of punishment has rarely been implemented in Iran and various means and remedies must be probed and exhausted [by the judiciary] to finally come up with such a punishment," the statement said.
The reaction came in response to British officials expressing concern following reports that convicted Ashtiani faced stoning punishment for adultery.
"If the punishment is carried out, it will disgust and appall the watching world," the Associated Press quoted British Foreign Secretary William Hague as saying on Thursday.