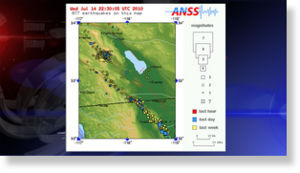 A week after a strong 5.4 magnitude shook the Coachella Valley and surrounding areas, more than 800 smaller quakes have been recorded in the same area.
According to U.S. Geological Survey data, hundreds upon hundreds of smaller magnitude quakes have hit the Borrego Springs and nearby communities since July 7, adding up to around 877 temblors.
Of those, six earthquakes stronger than a magnitude of 3.0 have hit in the area, according to the U.S.G.S.
On July 7, an earthquake measuring 5.4 magnitude hit northwest of Borrego Springs, sending shock waves through Southern California and neighboring Arizona, Nevada and Mexico. More than 24,000 people reported feeling that earthquake to the U.S.G.S., using their 'did you feel' it feature.
.