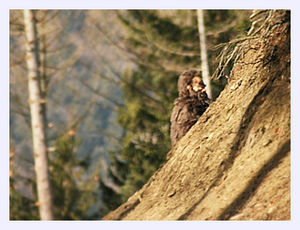 A Russian hunter claims he has saved something that can only be described as Bigfoot from a frozen river in central Siberia.
Russian news agency Itar-Tass quoted a source in the administration of the Tashtagol district of the Perm Region as saying that the incident took place in April this year near the village of Senzaskiye Kichi. The village is located 140 kilometers away from the nearest human settlement and the only connection with its residents is by helicopter. The latest flight to the village brought back a written report about the encounter with the so-called Bigfoot.
The letter read that professional hunter Afanasiy Kiskorov together with several other hunters was fishing when they heard a loud cracking of ice and a howl. When they approached the source of the noise, the hunters saw an unusual creature described as "like a huge man covered in dark brown fur." The creature was in the river, about 10 meters from the bank and it unsuccessfully tried to get out of the water and stand upright.
Kiskorov rushed to the rescue and reached out for the drowning creature with a dry tree branch. "Bigfoot" then grabbed the branch, got onto shore, and walked away.
Authorities in the Kemerovo Region have repeatedly released stories of Bigfoot sightings over the past few years. According to them, those interested in cryptozoology could help to develop the Siberian tourism industry.
.