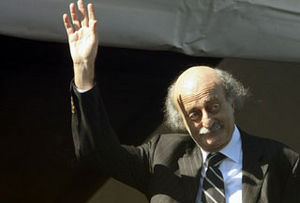 Leader of Lebanon's most powerful Druze clan Walid Jumblatt says Lebanon can turn to Iran to acquire the weapons it needs for protection against its enemies.
Speaking to Press TV in Beirut on Saturday, Jumblatt warned about a possible Israeli aggression against Lebanon, saying: "They (Israelis) are not hiding that, they are saying we will attack or we will one day come to Lebanon again."
He added that Washington refuses to provide Lebanon with its essential armament, fearing that the weapons could be used against its ally, Israel.
"Until now all the weapons delivered to the Lebanese army were American weapons or weapons from the Arab world,"
Jumblatt said.
"We need anti-tank weapons and anti-aircraft weapons... I think we can find such weapons in Iran or in Russia or in China," the leader of Lebanon's Progressive Socialist Party added.
"... Americans are not really willing to provide us with such weapons. They will tell you these weapons will be used against Israelis. OK, but
my enemy is Israel.
"
Jumblatt went on to call for dialogue between Saudi Arabia, Egypt and Iran, arguing that unity among Arabs and Iranians could help prevent a possible Israeli aggression against either side.
"It appears that several points of conflict are rooted in misinformation or disengagement between the Iranians and the Arabs," the Druze leader said, adding that it is "a must" to engage in dialogue.
Rejecting the Western media-hype which tries to portray Iran as the enemy of the Arab states, Jumblatt further quoted Secretary of the Arab League Amr Moussa as saying that Arabs and Iranian have to start a dialogue because they both have to face future threats from a possible Israeli aggression on Lebanon and on Iran.