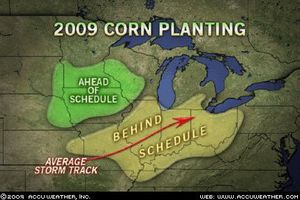 For the second consecutive year, a cool, wet weather pattern has delayed corn planting in the nation's breadbasket. Corn planted after the middle of May is more vulnerable to summer heat and may not reach maturity before the first frosts arrive. Much of an area from Missouri to Ohio has been very wet during the month of April with rainfall running 120-200% of normal.
One difference between last spring and this spring is that all of the Midwest was running behind schedule last year at this time, while this year, it's mostly the area from Missouri to Ohio and Michigan. The northwestern corner of the Midwest corn belt is actually running ahead of schedule, as of late April. The cool, wet pattern is forecast to last another 1-2 weeks across the Midwest. By the middle of May, corn planting from Missouri to Ohio may be running as much as three to four weeks behind schedule.
A stationary front draped across the midsection of the nation will continue to dump rain over the corridor from Missouri to Ohio through the end of the weekend. Some areas will have up to 5 additional inches of rain and flooding is already impacting some areas and is likely to occur in many other communities.