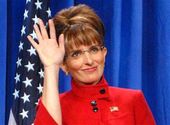 Actress has had fun with impersonation on 'SNL,' but can't do four years
Tina Fey is generating big laughs and big audiences for "Saturday Night Live" with her impersonation of Gov. Sarah Palin, but the actress hopes it doesn't last.
"We're gonna take it week by week. If she wins, I'm done," Fey tells TV Guide in the Oct. 20 issue. "I can't do that for four years. And by 'I'm done,' I mean I'm leaving Earth."
The "30 Rock" star also said the election season and playing Sen. John McCain's running mate has been a fun and busy time.
"Election time is always good for ('SNL,') and this is a bonkers election," Fey said. "And that lady is a media star. She is a fascinating person. She's very likable. She's fun to play, and the two bits with Amy (Poehler) - that was super fun."