Los Cabos - Tropical Storm Julio drenched Mexico's Baja California on Sunday and hundreds of residents fled poor neighborhoods that were in danger of flooding near the popular tourist resort of Los Cabos.
The storm was earlier reported to be carrying winds of 50 mph (80 kph) over the eastern Pacific Ocean before it hit the southern tip of the Baja California peninsula on Sunday afternoon.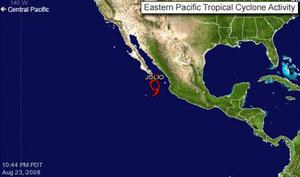 ©REUTERS/NOAA/National Hurricane Center/Handout
A graphic showing the location of Tropical Storm Julio at 10:44 PM, August 23, 2008.
"Right now we have five emergency shelters activated and we have the potential to open 14 if necessary," local emergency official Juan Carlos Guevara told Reuters.
"Hotels are open and guests are being cared for by the hotel's own security," he said. Some tourists walked along the beaches to watch 8-foot-high (2.4-m-high) waves pound the shore. Others hunkered down in their rooms to wait out the storm.
The port at Los Cabos, popular with cruise ships, was closed, but all the country's major oil exporting ports remained open, Mexico's Transport Ministry said in a statement.
Julio, the 10th named storm of the Pacific hurricane season, could dump up to 6 inches of rain in the area.
Emergency officials worry shanty towns built in dry river beds could be overwhelmed by flash floods if heavy rains fall in the mountains behind Los Cabos.
Migrants from southern Mexico flock to the region to work in construction or at resorts, many building makeshift shacks in low-lying areas out of car hoods, plywood and plastic tarps.
Julio is expected to weaken over the next couple of days and will likely be downgraded to a tropical depression by late Monday, the U.S. National Hurricane Center in Miami said in a statement.
The storm's center was unlikely to reach the northern town of Ensenada where the Sempra liquefied natural gas terminal is scheduled to open next week, forecasts said.