Hong Kong - Typhoon Nuri struck southern China on Friday, killing three people after barreling through Hong Kong, shutting down most of the financial hub with gale-force winds and disrupting hundreds of flights.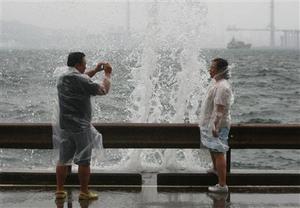 ©REUTERS/Stringer
A man takes a photograph on the waterfront during typhoon Nuri in Hong Kong August 22, 2008.
Downgraded to a severe tropical storm, Nuri made landfall in southern Guangdong in the late evening. Strong winds in the provincial capital of Guangzhou toppled an expressway traffic sign, which crushed a van and killed its three passengers, Xinhua News Agency reported on Friday.
Torrential rain is expected over the weekend as Nuri moves northwest, ebbing gradually, it added. The typhoon is now headed along the Guangdong coastline towards the gambling hub of Macau, where flights and ferries were also cancelled.
Much of Hong Kong ground to a standstill on Friday with the closure of financial markets, schools and offices. Howling winds swept across the former British colony, uprooting trees and churning white-tipped waves in Victoria harbor.
Streets were largely deserted and shops shuttered, with trees and scaffolding toppled by winds of up to 94 kph (58 mph) recorded in parts of the territory.
The last time a storm of such severity hit Hong Kong was typhoon Dujuan in September 2003. Around four hundred flights were cancelled or delayed by early evening, including those of the city's two major carriers, Cathay Pacific and DragonAir.
The tropical cyclone signal was upgraded to a relatively rare No. 9, one short of a direct hit, as Nuri closed in on the city after wreaking a path of destruction in the northern Philippines.
It was not immediately clear how the city would cope with a backlog of over 400 flights. A spokeswoman for the Hong Kong Airport Authority said arrangements would be made with the airlines, with flights likely to resume after midnight.
In China's Guangdong province, tens of thousands of people were evacuated from coastal areas and fishing boats called back to port. The Guangdong meteorological bureau warned it might be the strongest typhoon to hit the province this year.
Hong Kong's Olympic equestrian events, however, were spared the worst of typhoon Nuri, with the last showjumping event successfully concluded on Thursday night as the weather began to worsen.