Miami - Tropical Storm Fay was blamed on Friday for six deaths in Florida as forecasters warned that its torrential rains threatened a large swath of the southeastern United States with flooding over the weekend.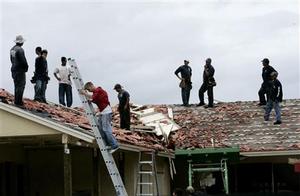 ©REUTERS/Joe Skipper
Workers clear debris from a damaged roof at the Palm Beach Equine Clinic after Tropical Storm Fay passed through Wellington, Florida August 19, 2008.
At 11 a.m. EDT the center of the storm, which had threatened to strengthen into a hurricane as it churned across the Caribbean, over the Florida Keys and on to the state's southwest coast, was about 40 miles northeast of Cedar Key in northwest Florida, U.S. forecasters said.
The sixth storm of what experts predict will be a busy Atlantic hurricane season, Fay was moving west at just 5 miles per hour (7 kph) after making its third Florida landfall on Thursday, the U.S. National Hurricane Center said.
The storm, with top sustained winds that had weakened to 45 mph (75 kph), was expected to move near or over the Florida Panhandle on Saturday and to dump heavy rain over northern Florida, southern Georgia and southeastern Alabama, the Miami-based hurricane center said.
"Regardless of its exact track ... Fay will be moving rather slowly during the next several days ... posing a significant heavy rainfall and flood hazard to a very large area," it said.
There was a possibility the storm could steer farther south and strengthen over the warm waters of the Gulf of Mexico. It could then target an area where offshore rigs produce a large amount of oil and natural gas and also the city of New Orleans, which was swamped by Hurricane Katrina in 2005.
The storm brought rain of up to 21 inches to areas around Cape Canaveral, home of the U.S. space shuttle fleet.
Emergency crews had to rescue some people from flooded neighborhoods and hundreds of homes were affected, local officials said.
Before taking aim at Florida, the storm killed more than 50 people in the Caribbean, mostly in Haiti where a crowded bus was swept away by a rain-swollen river.
In Florida, Gov. Charlie Crist said six deaths had been caused by Fay, including those of two women who drowned in heavy surf on Thursday in separate incidents along beaches off the state's Atlantic coast.
The other deaths occurred in traffic accidents and an incident in which a man died of carbon monoxide poisoning while testing two power generators.
"Obviously this is a killer storm," Crist told reporters.