Seattle - Madrona Beach on Lake Washington has been closed for swimming until further notice because of something mysterious in the water.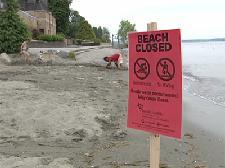 ©KING
Madrona Beach has been closed for swimming.
The trouble is, no one knows exactly what's causing strange foam to wash ashore.
Initial investigation did not determine the source or composition of the material. Therefore, Seattle Parks and Recreation closed the beach to all swimming or wading until further testing can be completed.
King County Department of Natural Resources collected samples of the material for lab analysis.
Testing results are expected Wednesday noon.
The small beach cove is popular with families.