South Texans eager to salvage what they can from waterlogged homes struck by Hurricane Dolly have another problem:
The floodwaters they're slogging through are laced with stinging fire ants, snakes and even deadly tarantulas.
"You don't want to wade in this water," state Health Services Commissioner David Lakey said during a visit to the Rio Grande Valley Friday. "You don't want to play in this water. You want to stay out of this water."
It was timely advice, but residents in many neighborhoods with waist-deep water had little choice as they sifted through the mess left by the Category 2 storm that hit the eastern Texas and Mexico coasts Wednesday. In eastern Hidalgo County, as much as 12 inches of rain fell in six hours, turning neighborhoods into coffee-colored lakes.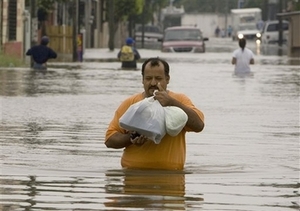 ©AP Photo/Eduardo Verdugo
A man wades through a flooded street after Hurricane Dolly hit the area in Matamoros, Mexico, Thursday, July 24, 2008. Officials said no deaths were reported in Mexico from Dolly, which struck land just north of the border in Texas Wednesday. It ripped off roofs, flooded roads and downed power lines, but the Rio Grande levees held strong.
Officials estimated it could take six weeks for the low-lying region to completely dry out and 118,000 people still had no electricity Friday morning. Emergency managers tried to assure people that they would come to help and begged for patience. They said they were beginning to pump water from some of the worst hit areas and working to move water into floodways.
The National Weather Service said the remnants of Dolly could still add a few inches of rain to some areas, and the forecast called for isolated showers in the Rio Grande Valley.
But water wasn't the only danger. Illness also lurked in refrigerators, health officials said.
"If it doesn't look right, doesn't smell right, don't eat it," said Eddie Olivarez, Hidalgo County health administrator. He said inspectors were fanning out to restaurants to make sure they disposed of food properly as well.
Fewer than 200 people remained in shelters in Hidalgo County, down from a peak of nearly 3,300. But rescue crews in boats were still searching flooded neighborhoods and plucking people from homes.
Still, officials were relieved it wasn't worse that no one died in the first hurricane of the season to hit the U.S. mainland.
"We're all OK," said Hilario Cruz as he chopped up a felled tree that just missed his pickup truck in Harlingen. "We covered the windows. The water was up to our knees yesterday."
The clean up will be substantial: President Bush declared 15 counties in south Texas disaster areas to release federal funding to them, and insurance estimators put the losses at $750 million.
The storm brought 100 mph winds and broke all-time July rainfall records in the Lower Rio Grande Valley, dumping a foot of rain in some spots.
Steve McCraw, the state's homeland security director, said about 1,500 workers were on hand to help restore power and seven stations were distributing water, ice, food and hygiene kits.
An aerial view of the Rio Grande Valley showed fields forming a checkerboard pattern, some inundated with water, others spared. Traffic was moving again in most places, but some residential areas were surrounded by floodwaters and debris was strewn across lawns.
Gov. Rick Perry, who flew over the area Thursday with U.S. Sen. John Cornyn, cautioned residents not to rest easy just yet.
"It appears that we have handled it as well as it can be handled. But it is far from over," Perry said, noting possible flooding over the next five days from runoff as the storm moves northward.
After crashing ashore on South Padre Island, Dolly meandered north, leaving towns on the northern tip of the Rio Grande Valley with a surprise. Officials had feared the levees would breach, but the storm veered from its predicted path and they held strong.
"We're glad it didn't make a direct hit, but it just refocuses on the issues we have," said Cameron County Judge Carlos Cascos. "The levees are suspect. Nothing's changed in my opinion."
On South Padre Island, which bore the brunt of the winds, officials said no buildings were in danger of collapse, but damage was widespread to hotels and other businesses.
Avi Fima was mourning the damage to "my baby" - his Surf Stop store on Padre Boulevard. Windows were blown out, half the roof was torn away and water bubbled up the carpeting inside.
"This is going to hit us good," Fima said. "We actually started summer really good. ... To rebuild it - the season will be over. We have a month left."
Shell Oil announced that it had restarted production at its natural gas operations in the Valley and was redeploying workers to rigs in the western Gulf of Mexico.